Drewtaylor21's Golf Journey (Swing Changes, WITB, Results)
drewtaylor21
I'm not superstitious, but I am a little stitious
Las Vegas, NV
Members
Posts: 2,843
✭✭
I've been on the fence about starting one of these threads for a while now, but I've had a few people ask me some questions about what I'm working on with Dana Dahlquist and I wanted to give a more detailed explanation, as well as keep somewhat of a running diary of my game. Hopefully this ends up being helpful!
First, some history.
Self-taught from age 14, which was when I got serious about the game, up until January of 2015 when I did a few online lessons with Dan (ITeach). At that time I was living in Utah, finishing grad school and playing in a lot of amateur and club events. 2013 was my first year back in competitive golf since college (graduated 2005), and it was a little bit of a rude re-awakening! I was playing very casually to a scratch handicap at my home course, but my first tourney back I shot 84-81! I played in 2 more events and got the rust off, then managed to qualify for the State Am, as well as one other top 10 that summer in a local event (Salt Lake City has a really great amateur golf season - lots of college and former college players and great public tracks!). Had a lot of fun and ramped up my seriousness about the game. 2014 I had multiple top 10's in amateur events around the area, shot a nice 67 to be one shot off the lead in the first round of USGA Mid-Am Qualifying (then blew up with a 78 in the afternoon round), and finished my summer with a T2 in my club championship, shooting 73-70 to lose by 1. I had 4 penalty strokes over the 36 holes of the CC, which had become a common theme in my game, and at that point I decided I needed to find some extra help to shore things up in my swing and get to the next level in ballstriking. I enlisted the help of Dan over that off-season and we made some nice changes to my swing. Here is a little timeline of progress to that point:
(sorry for camera quality)
2012-2013 swing:
https://www.instagra...-by=hurryupgolf
2014 swing:
https://www.instagra...-by=hurryupgolf
Swing changes with Dan: (driver)
https://www.instagra...hurryupgolf (5
iron)
https://www.instagra...-by=hurryupgolf
Unfortunately, my wife and I had to leave Salt Lake at the beginning of summer 2015, as I had finished grad school. Her family is in Las Vegas, and we were both able to find great jobs, so here we are. An unfortunate side effect was that I missed the summer events I usually played in Salt Lake, then found the summer amateur series in Vegas sucks! At least it did in 2015, as a lot of the big events were in Reno. Long story short, I was only able to play in one event last summer, which was USGA mid-am Qualifier in Riverside, CA. Wasn't hitting the ball too well going in, and shot 77 with a bad case of the lefts (3 penalties off the tee).
To be fair to Dan, he really helped me with my swing and my ballstriking improved quite a bit in terms of narrowing my misses. However, I went from playing a stock fade with my previous swing to a stock pull draw/occasional miss right with Dan, and was never able to figure that out. If you don't know already, missing both ways in golf is a recipe for disaster. In no way am I blaming Dan for that, as we only did a few lessons online and I'm sure he could have straightened me out with some hands on attention. However, Florida is a long way away and not too convenient for me, so I began looking around for another instructor.
In late August 2015, I saw George Gankas at his range in Westlake, CA. For those that don't know, "GG" is somewhat of an instagram celeb in the golf world (
@ggswingtips)
and he has a lot of young players playing really good golf in SoCal. I like George and respect what he does with his guys, but as I've said before on this site a few times, I left my lesson with him pretty confused and overwhelmed. He offered a lot of new ideas and tried to cover a few too many things in the short time I was with him, and I never really had much to build on with him. Just wasn't a great fit for what I'm looking for in an instructor. Despite that, I worked on his swing keys for quite a while, using Instagram and his private website for help. I saw flashes of good ballstriking, but a lot of inconsistency. However, I do think I developed a better pivot during this time, which invariably helped get me where I am now....
After seeing something Dan wrote in a GG thread about my swing, I reached out to him to ask about who he would recommend on the West Coast. He kindly referred me to Dana Dahlquist, who I was aware of through social media. In April of 2016, I went and saw Dana for the first time in Long Beach. Here is where I was going in:
https://www.instagra...-by=hurryupgolf
And here are the highlights from our first lesson:
[media=]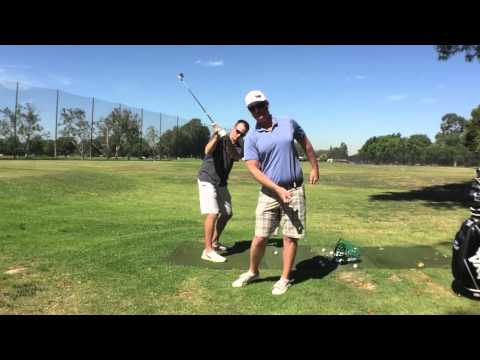 The main takeaways I had from lesson 1: more flexion of the torso in the backswing, "soft" arms, in transition the club lays down and left arm stays "in" or deep.
The backswing pieces made sense to me and those were pretty easy to fix. However, I had the hardest time with the transition piece. Keeping the left arm in always made me get steep (pulling down, old habit). I was able to fake it a bit by doing slow swings and freezers, but as soon as I went after it, it got steep again:
https://www.instagra...-by=hurryupgolf
Somewhere in there, I was prepping to play my only event of the summer. Unfortunately, my work schedule didn't allow me to play in a few events in late spring, and my wife and I were expecting our first child in July, so the only event I could play was in June. Shot 75, played nicely, just struggled on the greens, which had been punched/sanded 2 weeks earlier and hadn't healed. Easily the worst greens I've played on in a tournament, but everyone struggled, so scores were a bit high. I'm on new-dad duty (or dooty might be the better spelling) now, so I haven't actually played since 4th of July weekend, but I've got Flightscope set up in the garage and I'm able to hit balls at night once mama and baby boy are sleeping, so I get 30-60 minutes in daily that way. I have a few events in October and November that I have my eye on, if my work and parenting schedules will allow. I'm literally having dreams about playing golf again, so I'm hopeful that I can get back out on the course soon!
I was in SoCal for work a few weeks ago though, and set up a time to see Dana to try and resolve the difficulties I was having with transition and the downswing. I'm really pleased with the stuff I got out of lesson 2, and got some good video that sums things up nicely here:
[media=]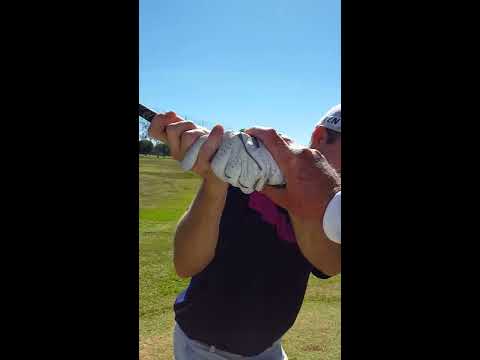 Main takeaways: clubhead more outside the hands, hand path works more vertically and club is a little across at the top. In transition, my 2 pieces I'm working on are simultaneously opening the pelvis to the target combined with the wrist action he describes, which is ulnar deviation and palmar flexion. The ulnar dev part feels absolutely absurd, but it's starting to make sense now! He had me do a lot of slow motion and a chip drill to ingrain things, and it's coming along.
Here is the chip drill followed by a 70% swing:
https://www.instagra...-by=hurryupgolf
Obviously a work in progress, but already on the Flightscope I'm noticing tighter dispersion patterns, and my path has shifted from a pretty consistent 3-5* left to now a 1-3* right. I am still getting some pull draws, but I think those are a result of combining new and old patterns (thanks for the lingo Tiger). The nice thing is that things are making sense, they're feeling better, and I have a good idea of where I'm headed with my swing. I'm looking forward to really nailing this stuff down and then getting back to competitive play as soon as I can!
I'll be updating this thread along the way, and I hope it's valuable to you guys!
Callaway Great Big Bertha 9* (Rogue Rip i/O 60x)
2016 M1 3HL (Aldila Rogue Silver 70x)
TaylorMade p790 3i (KBS Tour S)
TaylorMade RSi TP 4-9i (KBS Tour S)
Mizuno T7 Blue Ion 46-50-54-58 (S300)
Spider Tour Platinum 35"
TP5x
Instagram:
https://www.instagram.com/hurryupgolf/?hl=en
Post edited by Unknown User on
Tagged:
Leave a Comment