Best golf course story you heard while playing with strangers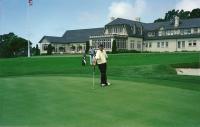 snowdayz
Posted:&nbsp
WRX Points:&nbsp3
Handicap:&nbsp8
Members
Posts: 109
Bunkers
Hey everyone,



Sitting around with some friends last night having some adult beverages and we started to talk about funny golf stories we heard while playing with people you never meet before. I enjoy hearing these kind of corky things and some of them are just beyond belief. I would enjoy hearing yours, here is my entry:



Whiling playing Whistling Straits last year my caddie for the round told me this.



A couple of years ago 4 guys are on the first hole and hit their tee shots, they ask the caddy to take their picture which he thought no big deal and did. After the picture was taken all four of the players changed clothes completely and than played the hole out.



Get to #2 the guys hit tee shots, ask for another picture, than change clothes again after. The same thing happened on #3 and #4.



Finally get to #5 and one of the guys looks at the caddies and says "ok we're done thanks for your time", tips the caddies very generously and they all walk off the course with their clubs. The caddy very dumbfounded by what had happened quickly ask the guy if he did something wrong or are they not happy with the course etc. The guy simply looks at him with a $hit eating smile and says "We're from New York and we told our wives we are going on four day golfing vacation in Wisconsin. We have a private airplane waiting for us about 30 mins down the road to take us to Las Vegas for those days, the pictures are so we can send one back each day to them so they think we are here".



Well Played Gentlemen, very well played!
Leave a Comment