No Catchy Nickname's bag of new and old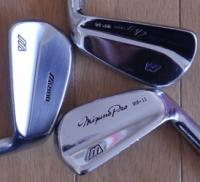 No_Catchy_Nickname
Kyushu,_Japan
Members
Posted:&nbsp
WRX Points:&nbsp1,387
Handicap:&nbspme
Posts: 6,160
Titanium Tees
With some new irons and a new driver, I thought it was time to post a WiTB.

A bit about me. My driver SS is about 107-108mph, and I'm a digger who's trying to recover.

I'm a bit of a 'ho for older irons, and I'll try to get round to posting some of my irons from the 80s and 90s. The Ping driver has a stock Tour 65S. At the fitting, I knew pretty quickly it was the right shaft for me, though I tried others. The R9 has a stock Motore X flex. It's really light (62g), but relatively stable. I picked it up second hand, but it's the club that's been in my bag the longest.

The new setup:


Driver: Ping G400 Tour 65S
4w: TaylorMade R9 stock Fujikura Motore X flex
7w TaylorMade V-steel, Quadra Fire Express RB 6SX
Hybrid: RomaRo iBrid 23* Attas EZ 85S
Irons (4i-PW): Mizuno MP4 Attas 115X 4-PW (+0.5")
Wedges: Cleveland RTX4 Forged 52* and 58*, DGS400 (both at 35.5")
Putter: Mac Jack Nicklaus Muirfield/Taylormade TPA XVIII/Wilson 8802

Old stuff: Tons of persimmon and older irons. 
Tagged:
Leave a Comment