Chrome peeling off of hickory mashie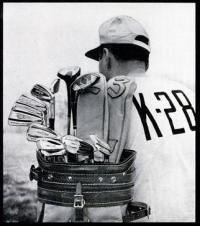 Dcohenour
Members
Posts: 600
✭✭
Question:



Last week I picked up a couple of hickory clubs to add to my set of irons (no woods yet). One of them has peeling chrome & rust. The head is currently sitting in rust remover, but I am wondering if there is such a thing as chrome remover and what would the process be?



I'd like to see this club minus the chrome. It has "Mashie 4" stamped on the sole. The engraving is no longer legible on the back, except for "Al". That's all I can make out.



After I get this one fixed up, I plan on regripping all of my hickory clubs with leather. Hope to get this all done by July 4th weekend.



Also, if anyone has a line on a couple of reasonably priced woods, pm me please. Ideally I would like to have a 3 1/2 wood and something like a 7 wood. I think that would allow me to play best.

Thanks!
OGA #1972-2018