Rounds with a mixed bag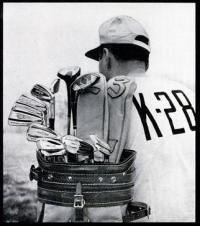 Dcohenour
Members
Posts: 600
✭✭
For those that play with a mix of modern, semi-modern, and classic clubs, describe your round, share your thoughts & experience, what you have learned, etc.

**********

Going out today, July 4th, 2018 at sunrise with the following:

Louisville Smart Persimmon Driver

Callaway 7 wood

Callaway 9 wood

First Flight III persimmon 5W

7 hy

Northwestern Thunder-stix PW

Ping iWedge SW

Spalding High Efficiency Putter

Callaway Chromesoft, Wilson Zip, & other assorted GB.

Nike stand bag



Playing the Glacial Nine @ Quit Qui Oc in Elkhart Lake, WI. Should tee off right at 5:00 AM. Lubricant= coffee as we speak.



My joints feel pretty good and I have that strap dohickey for my arm. I'm awaiting my new clubs, but have resolved to always carry a vintage club as a tribute to the good old days. Will post results later. Should be fun!
Post edited by Unknown User on
OGA #1972-2018