First fitting - advice or thoughts welcome!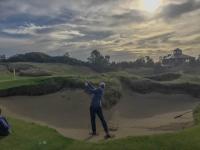 bostonbrahmin
Members
Posts: 91
✭✭
Hi All, new to the forums, figured I'd throw this out there... I'm going in for my first fitting tomorrow and I was wondering if y'all had anything helpful in terms of what to make sure I do, what to make sure the fitter does, things to remember etc. It's just for irons this time, so that should simplify it. Ideally I'm looking to get a set built in time for a trip to Bandon in early January.



In case this is relevant - I started playing last summer (2017), got the bug, and have subsequently played upwards of 120 rounds. Most everything I know about the swing was learned via YouTube, but I seem to have got the hang of it. I currently play standard Mizuno JPX 800 Pro irons I bought off eBay when starting, and I shoot on average low to mid 80's. My iron ball striking is pretty pure, most all of my strokes gained are off the tee or because I take dumb risks. Thanks in advance for any advice!
WITB:

Nike Vapor Speed 9.0 Fubuki Z50 S
Mizuno ST180 3 Wood Kuro Kage Silver TiNi Dual Core X
Taylormade TP RSI UDI 20° Tour AD-95 S
Mizuno MP 33 DG S200
Mizuno S5 52° 56° 60° DG Wedge
Odyssey White Ice #1
Titleist ProV1x

WTB:
Nike Flex Slim Pant (30/30)
Post edited by Unknown User on
Tagged: