Cause of broken adapter? Pics inside.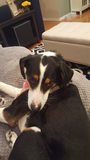 Z1ggy16
Members
Posts: 7,260
✭✭
On the 3rd swing with this shaft, I felt the head swing around about 180 degrees and looked down to see this:
Is this the result of a bad tip? It looks like the inside somehow came outside? That black "stuff" between the adapter and whatever that is on the bottom isn't epoxy, that's like a plastic material or something.
This is how a normal adapter looks, for reference:
I was able to tap the tip of the white shaft on the floor a bunch of times and got that bottom portion back inside the adapter. Obviously not going to use, but trying to determine root cause. Bad adapter? Bad epoxy application?
WITB
Epic SZ HZRDUS Smoke 60 6.5

LTD Proforce 75F5

818H2 Tour Blue 85X
P790 4i Modus 120X

P770 5-PW KBS Tour 120 FLT

Glide Stealth 2.0 50/10SS AMT Wedge

Glide Stealth 2.0 54/12SS AMT Wedge
Glide Stealth 2.0 58/12SS Modus 125 Wedge
TP Black Copper Juno w/ PX 7.0 Wedge
TP5X
Sun Mountain 4.5 Bag