Yesterday: An emotional high (99mph) and devastatingly low (story) day at the range. Warning, graphi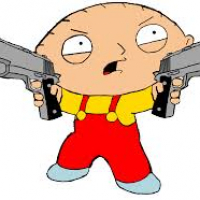 shadymg
Members
Posts: 173
✭✭
I didn't have the heart to post this yesterday when it happened. It was an emotional day to say the least at the driving range.
First the emotional high of finally figuring out my swing and smashing drives, and seeing 99mph on my swing caddie! I couldn't wait to try out this new tweak of a swing on all my clubs. I was on cloud 9, so happy, couldn't wipe the smile off my face....
What happened just a few clubs later was the extreme opposite, emotional gut punch. My driving range has a slight ramp to it behind the mats, and there's very little flat space But i've always put my bag behind and never noticed (reference: I own one of those UA Armada Cart bags which i love) any issues. The day was a windy day, but I didn't even think anything of it--okay, that's a lie, a part of me thought of putting my bag next to where the balls/mat is, but i wanted to record this new swing from down the line view.......as I'm hitting hybrid, i commence downswing and.....
BAM! My hybrid head goes FLYING into the range and i see the remains of my 3wood and Driver heads scattered around my mat.
This is the end result. I guess a huge gust of wind came and toppled it just enough? Or did I hit it with my hybrid (but not my 3wood or driver) and just didn't notice?! Did my gf get karma revenge on me for rushing her out of the house so I could make it on time for a tee time?!?!
I still have not emotionally recovered....my these shafts rest in peace in golf heaven. I wouldn't wish this on my worst enemy. So I'm sharing my story so others do not suffer the same--if you have a cart bag (no legs), then please, for the love of your clubs, be extremely careful where you place the bag!! Now I know why caddies on the tour put the bag lying down when on grassy areas. Was a very hard lesson to learn.