ANNOUNCEMENT:
Please have patience. We understand that this sucks and it will get MUCH better. Link to full post
HERE
Please add any bugs (problems) with new software in the
Website Help Forum
. There is a dedicated thread
HERE
.
Best Non-Leather Belt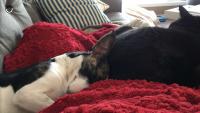 cmagnusson
Advanced Members
Posts: 357
✭✭
I'm sick of every sub-$100 leather belt I buy developing cracks within months of use and can't bring myself to spend more than that on any boutique nonsense, so I'm switching materials.



Weather its polyester/nylon webbed belts, stretch material, woven fabrics, or what have you, looking for recommendations on affordable and durable non-leather pant assists. I'm leaning towards the Adidas Webbed belt just because of the colour options, or the cloth Polo by Ralph Lauren belts.
Cobra BioCell+ 8.5*D, Aldila RIP'D NV 65TX at 44.75"
Ping Rapture 14*, Diamana Blueboard 73X
Titleist 917F2 18*, Matrix Deus 60X
Adams Pro DHy 18*, Aldila RIP 85X
Adams Red 20*, Aldila RIP 85X
TaylorMade RBladez 5i-PW, Stiff
Cobra Trusty Rusty 53*, 59*, DG S200
Odyssey WhiteHot Pro #1