ANNOUNCEMENT:
Please have patience. We understand that this sucks and it will get MUCH better.
Link to full post
HERE
BiMatrix question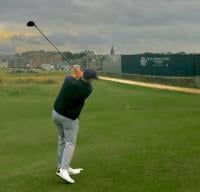 GolfMonster09
PING Staff 2019
Advanced Members
Posts: 1,445
✭✭
With the new "Stroke Lab" putter shafts and the BGT putter shaft, it's got me thinking...



I've got a couple extra BiMatrix shafts sitting in the office that could go in a putter potentially. Kind of the same concept as the Stroke Lab/BGT and a **** of a lot cheaper to try at this point.



Has anyone tried this already or how do we think that might work?
PING G410 9* (Set to 7.5*, weight neutral) - Tensei Pro White TX 60
PING G410 14.5* LST - Tensei Pro White TX 70
PING i500 3 iron - KBS Tour S+ - Cushin
PING iBlade 4-Pw - KBS Tour S+ - Cushin
PING Glide Forged (Ping Man stamps) - 50º/54º/58º - KBS Tour S+ - Cushin
PING PLD Anser "Honey Badger"
Bridgestone Tour B XS