ACCRA Tour Z RPG, come take my last item! Best offer takes it today!
pollock21
Posted:&nbsp
WRX Points:&nbsp98
Handicap:&nbsp7.6
Members
Posts: 737
Golden Tee
Some random items I'd like to move quickly. All prices to your door, paypal included. Feel free to send me offers on items you're interested in.
1) Aeroburner 16.5 tour issue with matrix reign prototype shaft in x-stiff. Has some hotmelt to get the swingweight up since these heads were notoriously light. Pictures speak to the condition of this thing. Can't remember exactly but I think it's around D-2. SOLD
2) Odyssey 2M-CS, Tour Black o-works. 34". Used 2 rounds, amazing shape. SOLD
All hats unworn or no more than once or twice. Selling for that reason
3 &4) Taylormade new release hats. SOLD
5) G-Fore USA SOLD L/XL flexfit
6) Travis Matthew SOLD each. L/XL flexfit
7) Nippon Modus 105 X-Stiff shafts. These were pulled from a set of i500 irons that were ordered 1/2" under. I had these extended 1/2" to get back to stock length but they just weren't for me. 5-Iron measured 37" grip to tip. Progression looks to be right around 1/2" between the rest of the shafts. I can provide measurements for all of the shafts at the buyer's request. Naturally the playing length in whatever these might be installed in is dependent on the bore depth of the new set of irons among many other factors. SOLD
8) Scotty Cameron latest model Newport 2. Hate to let this go but went back to a face balanced Mallet. This is a circle H ordered from Scotty so it has the heavier weights, as well as the larger grip. I believe it's called the matador but I'm not exactly sure. SOLD
9) Standard black Scotty Grip SOLD
10) Accra Tour Z RPG 372, M5 Flex (X-Stiff). Shaft is tipped 1" and has a Titleist adapter installed. 43.5" grip to tip measurement. Has an NDMC align grip installed. $165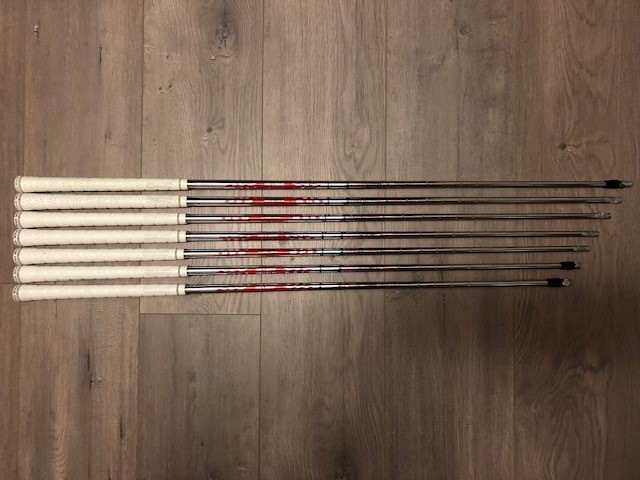 Post edited by pollock21 on
Driver: Ho
Fairway: 16M2 15* & 18*
Irons: Ho
Wedges: Ping Glide Stealth 50* PXLZ 6.5, 54* & 60* PXLZ 7.0
Putter: Scotty Newport 2
This discussion has been closed.