Larger Odyssey #7 heads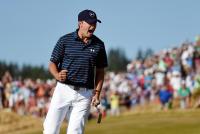 Wdwfreak
Wisconsin Proud
Posted:&nbsp
WRX Points:&nbsp165
Members
Posts: 1,127
Platinum Tees
As most of us probably know here the Odyssey #7 comes in basically two different sizes, the smaller, like the stroke lab model, or the o-works. And the larger model which I have been searching the forums and elsewhere and haven't found anything in years on this subject. What models are the larger head? I'm searching to find one and make a list of which models are larger.
The White Hot Pro model is (but hard to find)
White ice model
Works versa comes in a 7H as well but some are with a regular white hot insert and not the other Metal-x insert? I don't know whats up with that exactly.
White hot tour comes in a 7H as well
Last year's exo 7 is skeletonized but larger in size for sure.
Thats about all I have for now, thanks for the help!
Callaway Mavrik Standard Tensei Pro White 70TX 44.5"
Titleist 16.5* TS3 Diamana White 80TX
Titleist 19.5* TS2 Ventus Blue 8X
Titleist 24.5* TS3 Hybrid 38.25" Project X LZ 6.5 125g
Cobra King Forged CB 5-PW Project X LZ 6.5 125g
Ping Glide 3.0 51-55-60 Project X LZ 6.5 125g
Ping Sigma 2 Wolverine H 34.5"
Leave a Comment