TST Refugees: How's the adjustment?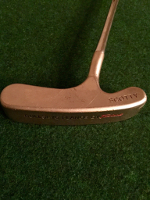 hoselpalooza
Members
Posted:&nbsp
WRX Points:&nbsp161
Posts: 478
Greens
first things first: i've seen a number of impassioned posts about this topic here and elsewhere and just want to share a friendly reminder about the forum rules below.
some unfriendly associations have been made like dictator/dictatorship, while others might suggest prince/principality or even king/kingdom as more appropriate (even if outdated). my personal opinion is that it's more like a slick-looking, tiny little country, but i digress...
Rules and Terms
2. Being considerate in dealing with other golf forums and their members
2.1. No threads or posts that bash other forums or their members.
now that that's out of the way, what are some things you were glad to discover on golfWRX?
or are there things that were available "elsewhere" that you miss and would like to see more of on golfWRX?
i was a "well established member" with an "excellent" community reputation at that other place though i've been more of a lurker around these parts. in my limited time on this site i think the instruction is pretty solid and i've learned a lot about clubmaking in the club techs section of the forums.
in any event, i'm looking forward to participating in a community with a healthier balance of view points and can't wait to learn more about what golfWRX has to offer.
thank you!
edit to add: if i seem overly sensitive to moderation just chalk it up to that TST PTSD.
callaway big bertha alpha 815 DBD 8*, 70g diamana d+ x
TEE CB4 13* 3w, 80g diamana a'hina x
mizuno mmc fli-hi 2i 16.5*, c-taper 130g
mizuno mp5 3-p, c-taper 130g
mizuno t7 50/55/60, c-taper 130g
Post edited by hoselpalooza on
Leave a Comment