GIVEAWAY: PING Heppler Anser 2 Putter-
ENTER HERE
.
MEMBERS CHOICE POLLS OPEN:
Best Irons
,
Best Wedges
,
Best Grips
,
Best Golf Bags
,
Best Golf Shoes
,
Best Pushcart
,
Best Rangefinders
,
Best Umbrellas
,
Best Rain Gear
,
Best Gloves
,
Best Launch Monitor
,
Best Golf Mat
,
Best Golf Mat (putting)
,
Best Travel Bags
,
Best Custom Headcovers
,
Best Golf Polo
,
Best Golf Pants
,
Best Golf Apps
Best Hat Style
,
Best Training Aid - Full Swing
,
Best Training Aid - Short Game / Putting
,
Best Training Aid - Fitness
,
Best Bespoke Accessory Company
Was this ever a rule? Ball struck by another ball not being replaced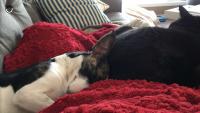 cmagnusson
Members
Posted:&nbsp
WRX Points:&nbsp183
Handicap:&nbsp14
Posts: 584
Golden Tee
Scenario: playing a casual round as a threesome yesterday. I hit my approach shot, pin high on the right fringe. Next group member hits on, then our third player hits along the same line as my ball, ends up striking it on the first bounce and shoots it to 6 feet.
As I go to replace it, the uninvolved player (second to hit in the above sequence) says that as my ball was not on the green, it does not need to be replaced. I'm about 95% sure he's mistaken, but for some reason there's a feeling deep in my gut that he's right. Just in case I play two balls and note to resolve this after the round rather than taking time to google it while on a crowded course. Afterwards, we look it up, and I card the up-and-down par I made from the fringe rather than the great birdie putt I made from the green.
But between him saying that, and it resonating so strongly with me, I ask: did the Rules of Golf ever delineate between balls on and off the green in regards to replacement after being moved? Was there a time that my bird would have counted? Or are we both sorely mistaken?
Cobra F8+ 9.5*D, Fujikura Pro XLR8 61X at 44.25"
Titleist 917F2 16.5*, Diamana Blueboard 73X
Taylormade PSI Tour 3 iron, DG Pro X100
Taylormade RBladez 5i-PW
Taylormade RSI2 AW 50*
Cobra Trusty Rusty 53*, 59*, DG S200
Cleveland 588 RTX2.0 64*
Odyssey White Hot OG #1 Arm-lock conversion at 7*, 42"
Leave a Comment