Visited Carbon Putters Today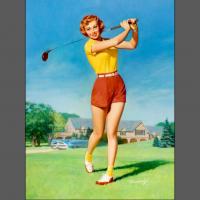 Maximilian
Members
Posts: 1,425
✭✭✭✭✭✭
I'm currently traveling and am right now in the Denver area and had some time to kill today. Being a putter and putting enthusiast, I wanted to take the opportunity to see if there was something related to that in the area I should check out, and decided to visit Carbon Putters. They are a small company consisting of two twin brothers and their mother. I had not made an appointment, but when I came I was friendly greeted by the brothers. They have two spaces in a business complex, one where they mill and build all the putters which was really cool to see, and another small space next door that had a putting green and tons of absolutely gorgeous putters lining the wall!
They had more models than I thought they did and they had them in different weights, with different necks and in several different incredible finishes. Their other company is The Putter Lounge, which is a re-finish business, so they do that part as good as anyone. If you custom order a putter from them, they will add whatever sight aids or engravings you wish, but most of these were very minimal, which is right up my alley. After having spent about 10 seconds in there, I knew I was bringing something home with me.
There were several putters I loved, but I finally picked out a favourite and they put me on Quintic and made some small loft and lie tweaks to it, then back to Quintic a few times back and forth before the putter was perfectly setup for me. Then they put a new grip of my choice on it.
Again, I had not booked an appointment! They never tried to push me or rush me in any way, they were just really helpful in getting the perfect putter in my hands. I can't say enough good things about my visit, I was very positively surprised. If you are ever in the Denver area, I highly recommend stopping by!
Attached are some pictures of my new Faxon inspired putter. :-)
Leave a Comment