MEMBERS CHOICE POLLS OPEN:
Best Irons
,
Best Wedges
,
Best Grips
,
Best Golf Bags
,
Best Golf Shoes
,
Best Pushcart
,
Best Rangefinders
,
Best Umbrellas
,
Best Rain Gear
,
Best Gloves
,
Best Launch Monitor
,
Best Golf Mat
,
Best Golf Mat (putting)
,
Best Travel Bags
,
Best Custom Headcovers
,
Best Golf Polo
,
Best Golf Pants
,
Best Golf Apps
Best Hat Style
,
Best Training Aid - Full Swing
,
Best Training Aid - Short Game / Putting
,
Best Training Aid - Fitness
,
Best Bespoke Accessory Company
**additional price drop**Cleaning out for the Baby Blades *price drops*
kingotheworldma
Golf geek, obsessed with playing and learning
Athens, Ga
Members
Posted:&nbsp
WRX Points:&nbsp42
Handicap:&nbsp6.4 trending
Posts: 502
Golden Tee
Vokey SM7 52/12f Black finish with original grip. Only played about 3 rounds. Great shape. $75 obo

Titleist 714 CB 4-PW (possibly 3i with Project X 6.5 shaft) With Project 5.5 shafts, Lamkin ACE 3 gen grips (1/3 season but these are great super durable). Custom BB&F ferrules. I have played these for a few years, but they are very well kept. $125 obo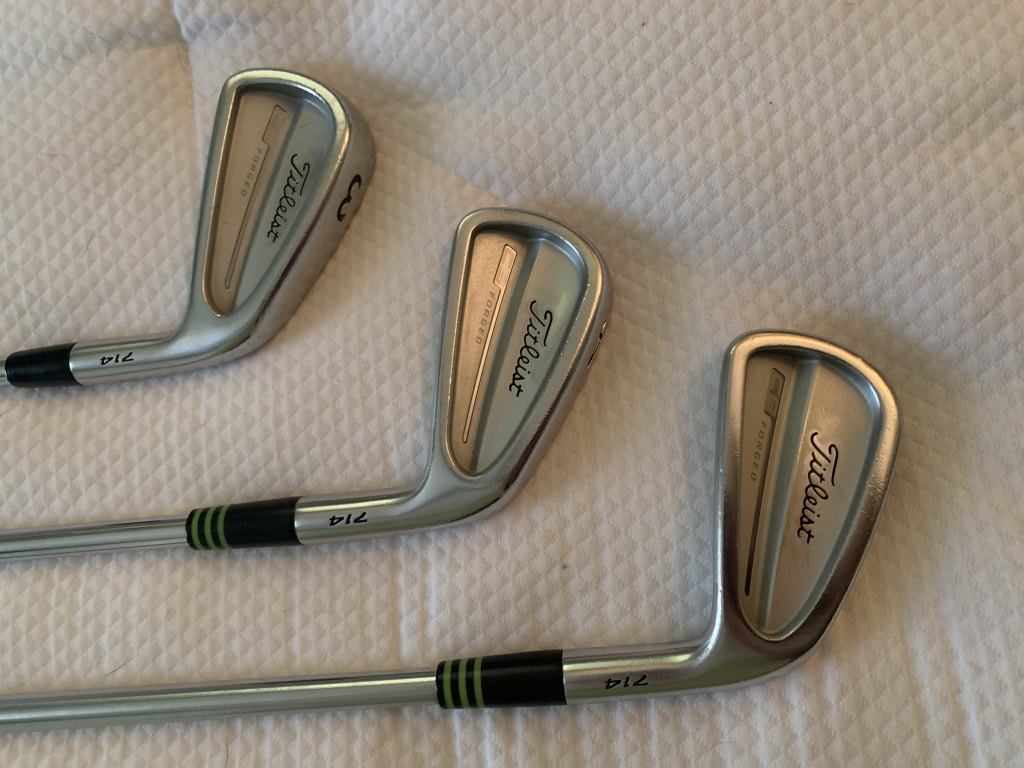 Pin 7/30
Odyssey 9 White Hot with black shaft and custom "Take Dead Aim" Salty Grip. Built in 80 gram counterbalance. Floor to grip 33 inches. $SOLD. ![](https://us.v-cdn.net/6024507/uploads/editor/at/
6 Project X 6.5 shafts. 4,5,6 (7 not included, was bent), 8,9,PW. Have Lamkin ACE 3gen midsize grips in good shape. $SOLD IMG_1300.JPG

Mizuno MX-500 10.5* driver<br />Tour Edge Exotics XCG6 13 Degree 3 Wood(as mini-driver)<br />Titleist 910f 16.5* 3 Wood,<br />Titleist 714 CB 3-pw,<br />Scratch 50*DD wedge,<br />Cleveland 588 raw 56* wedge,<br />Odyssey #9 White Hot,<br />Snell My Tour Ball,<br />True Linkswear shoes(da bomb!)<br /><br />TAKE DEAD AIM - Harvey Penick
Post edited by kingotheworldma on
This discussion has been closed.