MEMBERS CHOICE POLLS OPEN:
Best Grips
,
Best Golf Bags
,
Best Golf Shoes
,
Best Pushcart
,
Best Rangefinders
,
Best Umbrellas
,
Best Rain Gear
,
Best Gloves
,
Best Launch Monitor
,
Best Golf Mat
,
Best Golf Mat (putting)
,
Best Travel Bags
,
Best Custom Headcovers
,
Best Golf Polo
,
Best Golf Pants
,
Best Golf Apps
Best Hat Style
,
Best Training Aid - Full Swing
,
Best Training Aid - Short Game / Putting
,
Best Training Aid - Fitness
,
Best Bespoke Accessory Company
Favorite footwork drills? (especially for transition)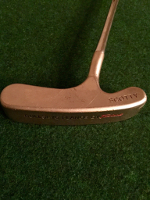 hoselpalooza
Members
Posted:&nbsp
WRX Points:&nbsp118
Posts: 403
Greens
context: what i'm trying to accomplish is a slight lateral shift toward the target in early transition and then immediately "externally rotating" both hips as i begin the downswing. this works really well for me in slow motion or when i stop at the top of the backswing, pause for a few seconds, and then go, but sometimes i get out of sync at full speed. e.g. when i miss i tend to either keep my weight/pressure moving forward without digging into the ground with the trail heel and hit it thin, or i hang back for too long and chunk it.
i've improved slowly through trial and error and am wondering if there are footwork drills you could recommend to help speed up the process.
thanks!
p.s. i think "externally rotating" the hips is the technical term for the sam sneed-like squat move, though based on my experience i think squat is a misnomer. i could track down a good explanation somewhere online if you're curious or if it adds to this post.
any hunch or conviction i share today may very well be disproven or overturned tomorrow, and i welcome that. i'm simply here to learn with others, even if my enthusiasm for golf occasionally masquerades as knowledge. after all, the more i learn the less i know.
Post edited by hoselpalooza on
Leave a Comment