MEMBERS CHOICE POLLS OPEN:
Best Irons
,
Best Wedges
,
Best Grips
,
Best Golf Bags
,
Best Golf Shoes
,
Best Pushcart
,
Best Rangefinders
,
Best Umbrellas
,
Best Rain Gear
,
Best Gloves
,
Best Launch Monitor
,
Best Golf Mat
,
Best Golf Mat (putting)
,
Best Travel Bags
,
Best Custom Headcovers
,
Best Golf Polo
,
Best Golf Pants
,
Best Golf Apps
Best Hat Style
,
Best Training Aid - Full Swing
,
Best Training Aid - Short Game / Putting
,
Best Training Aid - Fitness
,
Best Bespoke Accessory Company
TAYLORMADE M4 DRIVER & 3 WOOD, PING HOOFER 14 CHEAP
awtryau89
Hoschton, GA
Members, ClubWRX
Posted:&nbsp
WRX Points:&nbsp309
Posts: 1,533
ClubWRX
Got a few things I want to move. Longstanding member with over 200 positive transactions. I'll ship quick. Let me know of any questions.
Taylormade M4 8.5 Driver with Evenflow White 65 6.0 shaft. Probably should be selling this one. Fit for the head at Kingdom East. The head is not tour issue but has hot melt low and forward to bring the weight up to 202 grams to be played at 44.75". Great sounding head that is low launch and spin. I gamed this one a season and has typical wear but still in great shape. Older M2 2017 head cover included.
$220 Shipped
$180 Head Only Shipped
Taylormade M4 3 wood. Atmos Black Tour Spec 7s tipped 1/2" installed. Plays 42.74". Gamed same season as driver. Normal wear. Shaft is worth nearly my asking price. No head cover.
SOLD
Srixon Balls. I have 48 Srixon balls here for sale. Will not break up lot. I have 12 brand new 2015 Z Stars and 24 brand new 2019 Z Star XVs. I have another 6 2015 Z Stars that have not been played but have sharpie marks and another 2019 Z Star XVs in the same condition. The 6 white golf balls are 2019 XV.
SOLD
Ping Hoofer 14. This bag is a 2017 model but was purchased in August of 2018 from my proshop with credit. The bag was brand new. Was going to give it to my son but he didn't like to color. It has been used less than 10 times and is in great shape overall. There is a small rip in the divider inside the right top against the outside of the bag. It doesn't usually interfere with anything but can snag a grip every now and then. Pricing this bag accordingly considering shipping costs.
$95 Shipped East
$110 Shipped West of MS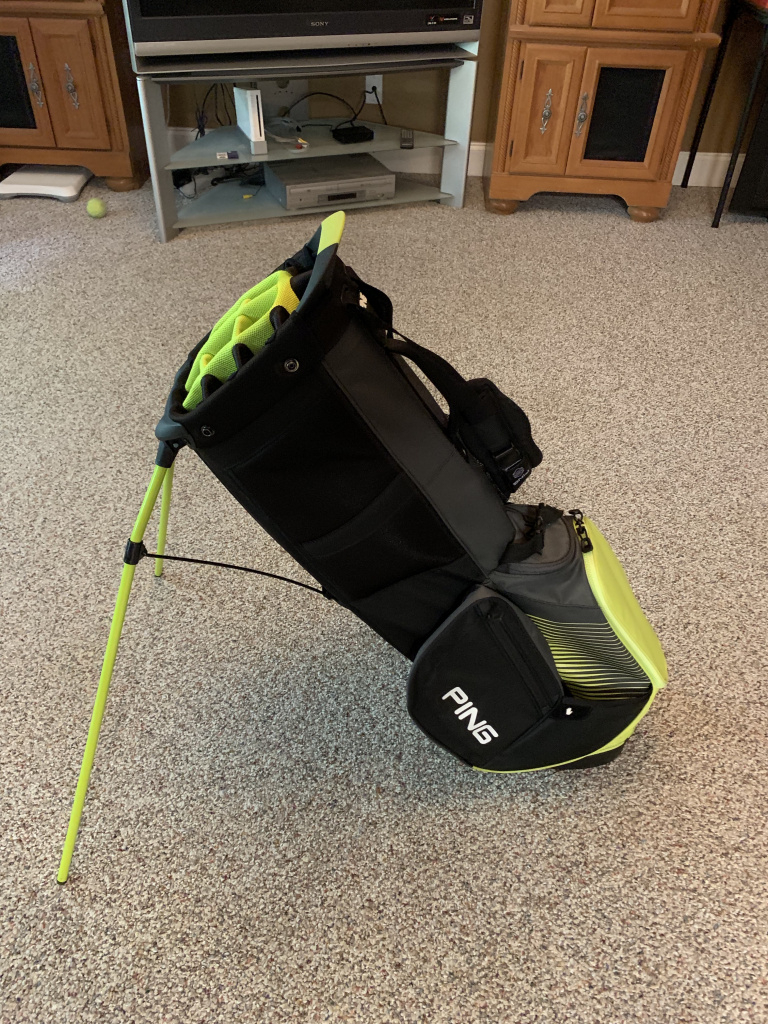 Post edited by awtryau89 on
This discussion has been closed.