If you've hard-stepped your irons...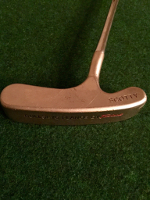 hoselpalooza
Members
Posted:&nbsp
WRX Points:&nbsp161
Posts: 478
Greens
...how did you know when you arrived at the right flex for you?
like many amateurs i could probably unwittingly adapt a swing for shafts as stiff as rebar or an alignment stick and everything in between. not saying it would be ideal, but like a lot of people i've simply learned to make do with what i have instead of honing in on the perfect flex. now i want to change that.
for those of you who've gone stiffer, would you please share your experience? what did you learn or notice that was unusual or unexpected? what would you recommend to others going down a similar path?
thank you!
p.s. i would understand and appreciate advice to go through a fitting but that's not the kind of solution i'm after. i'm more interested in improving feel than manipulating launch monitor numbers and hope to learn from others who've customized their clubs for similar reasons. cheers!
callaway big bertha alpha 815 DBD 8*, 70g diamana d+ x
TEE CB4 13* 3w, 80g diamana a'hina x
mizuno mmc fli-hi 2i 16.5*, c-taper 130g
mizuno mp5 3-p, c-taper 130g
mizuno t7 50/55/60, c-taper 130g
Tagged:
Leave a Comment