Grind/bounce similar to Adam Scott 60 degree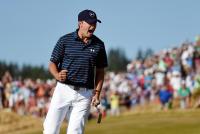 Wdwfreak
Golf Pro - Wisconsin
Members
Posts: 1,051
✭✭✭✭✭✭
Hey all, looking for a little help, I used to be a big fan of the full sole 60 degree, I went away and I think Ive made a bit of a mistake going away from it. I always like the versatility and feeling of forgiveness. I currently use a 60-08M that is alright but I've been looking around.
The grind I'm talking about is like Phil talks about in his 'secrets of the short game' which is an old x-forged 60-10, the other player on tour I've noticed that uses a wedge like that is Adam Scott. His is a K-Grind, but not the 14 bounce option that's stock from Vokey that I find a little excessive. I know I can't get that and I want to ask, what current wedge on the market has this full sole grind like this? Fairly absent of heel and a toe relief without a massive amount of bounce. I've attached a few pictures of his wedge from his WITB.
A lot of people have seen more than wedges than I have. It's hard to find pictures of wedges and their grinds. Two leads I have without being able to see them in person is I believe the new milled grind 2 standard bounce option has a sole similar to this, second one is the full sole RTX 4 option from Cleveland?
I'd appreciate the help, thank you!
Taylormade M3 460 8.5 HZRDUS T1100 75X
Titleist 915fD 3 Diamana White 80-TX
Titleist TS2 5 Fujikura Atmos Tour Spec 8TX
TItleist AP2 718 4-6 DG X100
Titleist 718 MBs 7-9 DG X100
Titleist Vokey SM7s 46F DG x100, 50F, 56S, 60M DG S400
SIK Pro-C Arm Lock 40"
Leave a Comment