Fall/Winter Golf in the PNW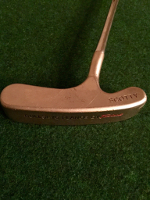 hoselpalooza
Members
Posts: 253

my #1 golf goal this year was to establish a handicap so i could play in tournaments with friends next year. i can hardly believe how quickly summer's gone by and am starting to worry i might not achieve this goal. long story short, i haven't made as much time as i would've liked to go play but no regrets...
anyway, i recall reading something about the posting season changing around here to include winter scores but a quick google search didn't yield anything definitive. does anyone know if this is the case or when the posting season closes?
additionally, i'm happy to put my push cart and rain gear to task* if that's what it takes. would be grateful for any recommendations to improve enjoyment and performance in cold, wet weather in this part of the world.
thank you!
*looking for umbrella recommendations that fit clicgear. big bonus for UV protection and ability to withstand those blustery gorge winds!!
any hunch or conviction i share today may very well be disproven or overturned tomorrow, and i welcome that. i'm simply here to learn with others, even if my enthusiasm for golf occasionally masquerades as knowledge. after all, the more i learn the less i know.
Tagged:
Leave a Comment