***ATTENTION***IMPORTANT ANNOUNCEMENT***ATTENTION***IMPORTANT ANNOUNCEMENT***ATTENTION

Last year, in an effort to improve the capability of our forums, we switched to new software. We expected tremendous scalability and rapid customization that would significantly improve each Member's experience across multiple devices and integrate flawlessly with social media platforms.

Unfortunately, after a significant capital expense, we have decided that the length of time and the additional cost to reach our goals make this enterprise untenable.

Thus, we have made the difficult decision to transition the forums to our original software platform. We're excited that, in the nearly two years since we began the process of our most recent switch, our original platform has been upgraded significantly, and we are confident that the reversion will not only provide the stability that we desperately needed prior to our last move but will also return to the Membership the high level of customization that made our online community so great. We have also added technical resources to the GolfWRX staff that will allow us to build custom modules and modifications that we are confident will take the forums to the next level.

We remain the world's largest online golf community, and we still hold true to our core values and mission statement as written in 2005. Bearing both of those elements in mind, being the best and offering our Members a platform that is world-class are both requirements, not options, and it is that spirit that has motivated this decision.

So, please pardon our mess over the next five days or so while we transition the forums.

A few important notes: Current content will be accessible during that time, but the forums will be READ ONLY, and you will not be able to start new threads or reply to posts. Personal Messaging is enabled but PMs sent/received from the time the board was frozen will not carry over. We know this is inconvenient, and we apologize, and we greatly appreciate GolfWRXers bearing with us through the transition.

We are very excited about starting this next chapter for GolfWRX and getting back to the high-quality Member experience we all expect as soon as possible.
Price update Just a few items left accepting offers Rare s2 forged, s55's, t200, scotty
tmax77
Members
Posted:&nbsp
WRX Points:&nbsp112
Posts: 1,061
Platinum Tees
Lots of trials going on lately so clearing out any excess
No trade interests at this time thanks for looking
Project cln prototype long neck face balanced scotty Cameron. This one has been to the custom shop for refinishing and is in excellent condition. 35" std lie
$325 obo
A cult hero S55 4-pw tried to show condition which is very good especially considering their age. Paint fill has been changed to blue clubs are std length, purple color code, matching serial numbers, zz65 shaft, newish midsize tour velvet grips. $325
obo
Titleist TS3 10.5 driver head pics show condition which is excellent. Club has been ct tested by the dot on the face...can match it up with various shafts
But pics aren't shown (pm about them if interested) so head only with head cover and tool. Sold
Lexi special another cult hero that Lexi finally got out of
Cobra s2 forged 7-gw brand new in plastic with ctaper stiff shafts std length and lie...these clubs are like absolute butter just a little big for my tastes...impossible to find them in this condition $195 obo
A set of brand new custom t200 4-pw. Matching serial numbers std length, 1 degree flat and 2 degrees weak to take out the effects of offset and to lessen the "hotness" of the clubs (clubs can be adjusted on request) DG Amt white s300 shafts with 360 tv white grips +2 extra wraps
Sold (decided to stick with combo set of t100/t200's
Last but not least 718 ap2 4-p again pics tell the story
STD length, d3 swingweight nippon 1150 stiff shafts. STD lie on these as well some of the clubs have only seen a couple shots..some clubs a little more than that but overall in excellent condition SOLD
Feel free to pm or text me (330) 703-9495...no trades at this time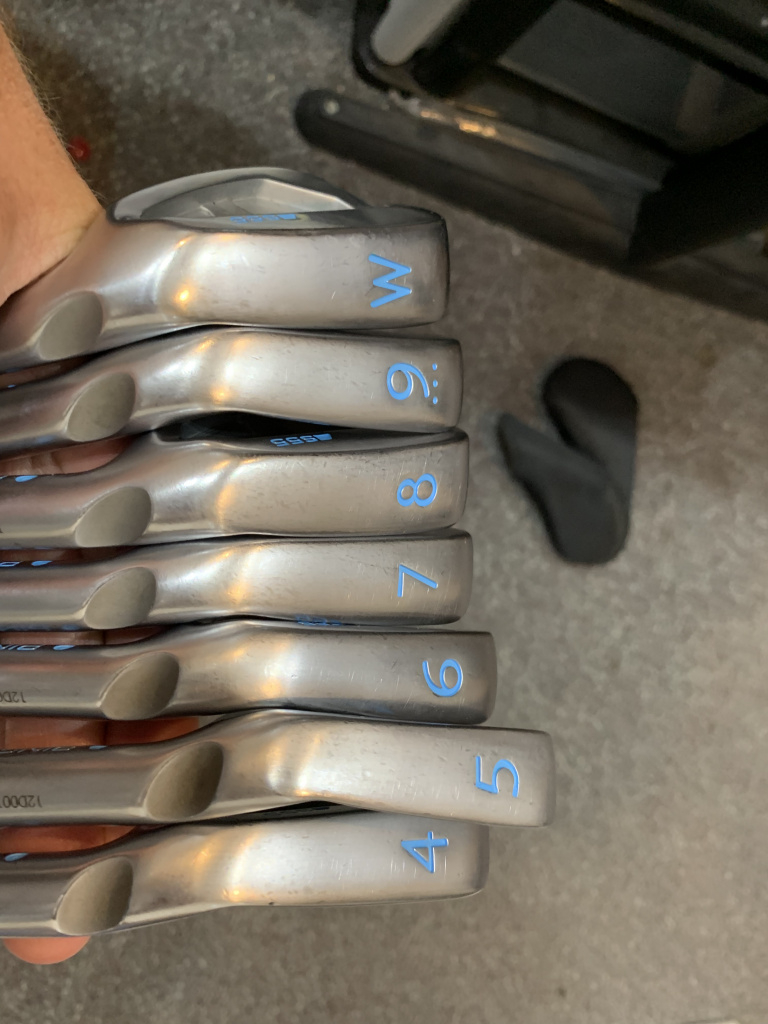 Pin 10/4
Under construction....
Post edited by tmax77 on
This discussion has been closed.