Cheap Stuff: Titleist SM7 Wedges / Titliest AP3 Long Irons / Callaway Rogue Hybrid / PX Iron Shafts
CC Stryder
Members
Posted:&nbsp
WRX Points:&nbsp120
Handicap:&nbspSnow
Posts: 785
Golden Tee
Good evening fine Gentlemen and Ladies of WRx! Prices are **all in PayPal/shipped to the CONUS via USPS Priority **so please keep that in mind when offering. I am open to offers but asking price will take precedence. First to pay, first to get. If the ad is up, the item is still for sale. I take pride in my feedback (which was close to 100 perfect transactions) and work to be as honest and upfront as possible. Feel free to ask any questions or make offers.
PayPal: [email protected]
Trade interests (I can add cash if need be):
Titleist T-MB 3 or 4 iron
Titleist U510 1, 2 or 3 iron
Taylormade GAPR Mid 3
Taylormade P790 UDI
Taylormade Original One Mini (head only or shafted)
Ping G410 Crossover 2 or 3
60-70gram driver shafts with Callaway Tip
Sneak Peak & NOTE: The putter with the red arrow is not for sale...yet
Titleist SM7 Tour Chrome Wedges (Pair only, will not split) = $85 OBRO SOLD
Purchased these new and used for a season, 54 S grind and 58 D grind. Standard everything with stock Vokey shaft and near new MCC+4 align grips. Won't be heartbroken if these don't sell but I went back to my trusty TVDs so these are just sitting.
Titleist AP3 4 and 5 iron with Project X 6.0 shafts (Pair only, will not split) = $100 OBRO SOLD
Picked up here earlier this year and played these off and on this season with my AP2. Hit my friends TMB so now I want those (see trades). The 4 iron has a Golf Pride tour velvet align, the 5 iron is ungripped but have new Lamkin UTx or Golf Pride Z-Cord I can toss in. The 5 iron plays 38" and the 4 iron plays 38.25" measured straight down the shaft. Note the ferrule on the 4 iron is sliding up a bit but at this price, you'll be fine!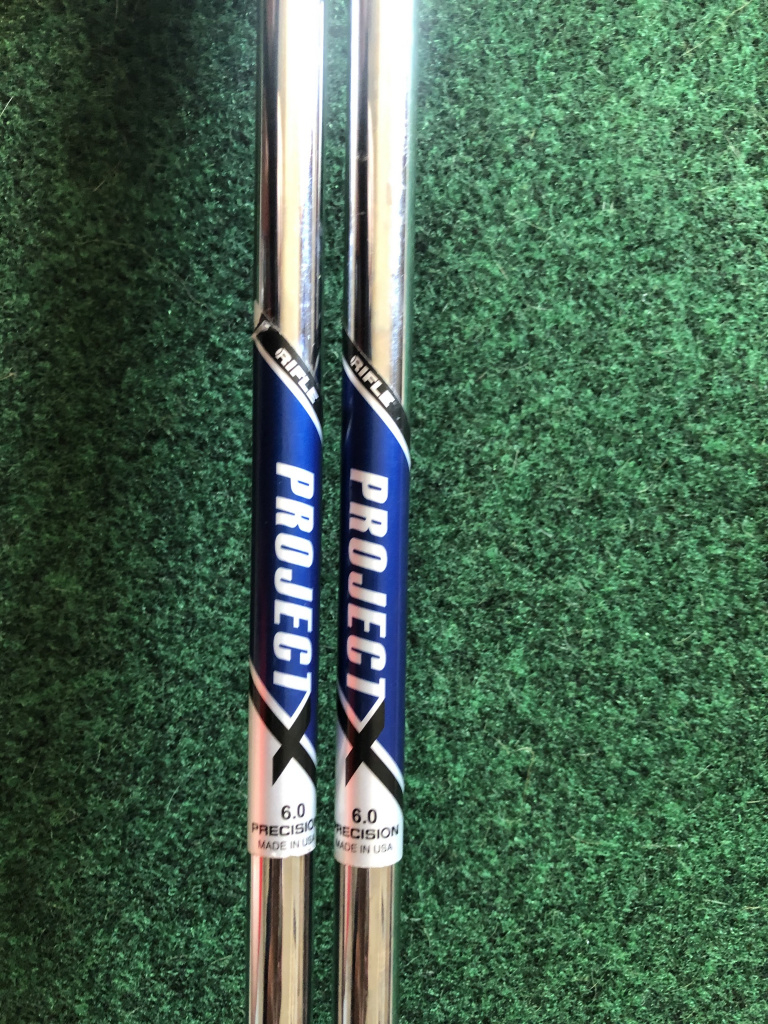 Project X 6.0 Iron Shafts = $35 alone OBRO or $20 bundled with the AP3 above. SOLD
Pulled from I200 irons 6-Gap and used in my AP2's for a while before going to steel fibers. Lengths are below in the measurements. No grips, but I do have Golf Pride Z-Cord pulls in good shape I'll toss in for $20 more.
Callaway Rogue 3 Hybrid = $50 OBRO. SOLD
In good shape used sparingly. Measures 40.5" straight down the shaft with a Lamkin UTx grip and head cover. Atmos Blue 8s shaft and Lamkin UTx grip.
Post edited by CC Stryder on
Currently in my bag:
Callaway Mavrik SZ / Oban Kiyoshi
Callaway Steelhead 4+ / Tensei
Mizuno CLK 19* / Mayizaki
Mizuno MP20 4-P / DG 120
Mizuno T20 51/57 Raw / DG 120
Taylormade Spider X Slant
Tagged:
This discussion has been closed.