Little known on-course habits/tactics of pros that amateurs should practice?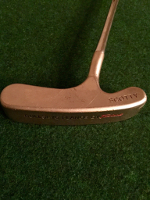 hoselpalooza
Members
Posted:&nbsp
WRX Points:&nbsp165
Posts: 485
Greens
recently watched an on-course vlog with wesley bryan. he hit a drive underneath some trees. before playing his shot he demonstrated how to check for roots by puncturing 4 holes around the ball with a tee. i thought this was a great idea and am surprised this is the first time i've seen someone do it.
what other nifty tricks do the pros (or seasoned duffers) use that the rest of us should know about?
callaway big bertha alpha 815 DBD 8*, 70g diamana d+ x
TEE CB4 13* 3w, 80g diamana a'hina x
mizuno mmc fli-hi 2i 16.5*, c-taper 130g
mizuno mp5 3-p, c-taper 130g
mizuno t7 50/55/60, c-taper 130g
Leave a Comment