DIY Driver tune up / DIY fitting
Howard_Jones
Members
Posted:&nbsp
WRX Points:&nbsp2,285
Posts: 11,605
Titanium Tees
PS! this tread has been edited to remove visible HTML codes, and i hope i did not remove some of the texts while i did that, so if you notice visible HTML coeds, or it seems like words is missing, please let me know.
Ive seen the same questions over and over, and many of the readers dont have access to club fitters or work shops who can assist, so they are left to them self. Many is asking for help to cut down a driver, and what happens if...and so on, but before you do anything at all to club length,read this post, and then you will be able to re-fit your own driver as good as possible, without any high tech equipment at all.
Here is a DIY method to find the right club Length, Total weight & Swing weight balance.
Get a whiteboard pen, some graffa tape/ duct tape, some lead tape or a few coins. (Dimes is nice)
- Mark the ball with a dot, facing sweet spot at address
- Hit a few balls and look for impact marks
- Against the heel side - Shaft is too long
- All over the face - Shaft is too long (might be to low head weight)
- Out against the toe mostly - Shaft is to short*
- IDEAL impact spot more than 70 %, about maximum club length (within 3/4 of an inch large circle of IDEAL spot)
- Ideal impact spot is the upper toe side part of that marked with a SMILEY
The SMILEY shows the absolute ideal impact spot. This is a bit toe side where club speed is higher than mid face, with a PTR/Smash factor of ABOVE 1.5 on a Trackman, where ball speed can be up to 3 Mph higher = 6 yards more carry than absolute center of face from the extra ball speed alone. To get there, a driver to the shorter side is beneficial. Loft is also a tad higher, and gear effect on face will eat some spin, so here you can gain launch without adding spin, but not if you get to high on the face, then PTR/ Smash factor drops, and you loose ball speed and distance. (PTR = power transfer ratio/smash factor)
IDEAL impact spot is both a question of COR but mostly a question of where Vertical Center of Gravity is located.
Impact below will add spin, impact above will cut of spin, so the cross mark on the face is VCOG.
This is how vertical gear effect add or cut of spin, look at the smileys and what spin value we can expect at that spot
Here is how you can measure out VCOG yourself, if your club head can be taken off the shaft.
If its a connector type head, add the few grams of the connector to the empty hosel.
You need a vise and a ballpoint pen of the type we push the button in the back to get the tip out.
Put the pen in the vise PEN TIP IN and UP, as strait up and down as you can.
Now put the head face down on the pen tip, follow the center line heel to toe, and search; for VCOG up and down between sole and crown.
ALL heads on the marked has a VCOG ABOVE the center line of the face.
No matter head, VCOG will be somewhere on the RED Line (se the "twist face" photo above), so we dont have to search much of the face to find it.
When VCOG is found, the head should be able to rest without your support on the pen tip, and now, you just hold the head in position with one hand, and push the pen button with the other hand, and you get a mark on VCOG
Be aware of that most club head has a VCOG located a bit higher on the face than the SLDR.
DIAL IN LENGTH AND TEE HEIGHT
Club length
- To simulate a different club lengths, put a 1/2 inch wide piece of tape on top of your grip, as you have chopped that part of. Take your grip lower than the tape, and hit another ball - Look for impact marks. Keep on adjusting, until you gets out of heel area and into center to slight toe side. When you found MID face, adjust tee height, to adjust impact height.
Club length and Tee height. - how to dial in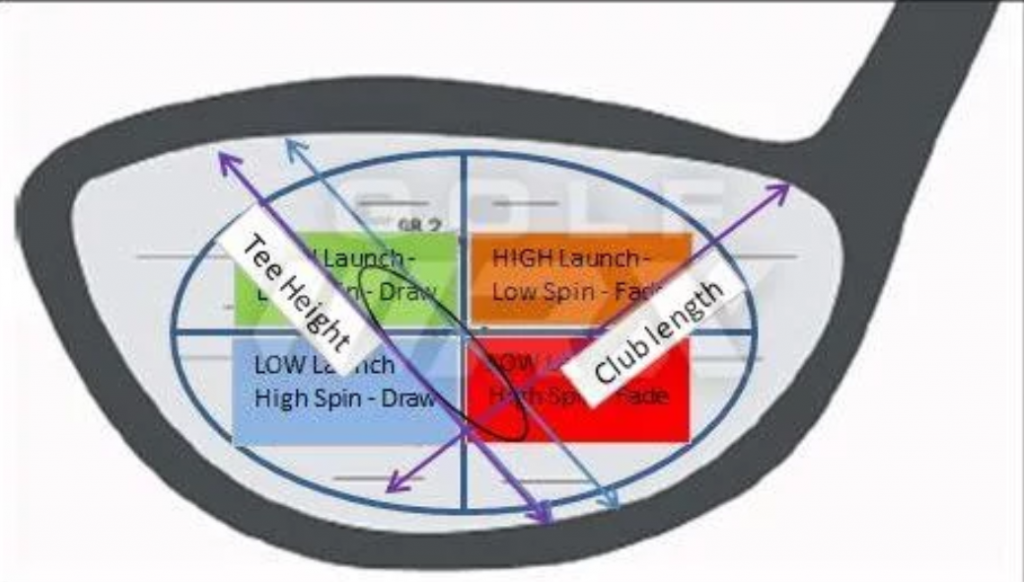 If you get on a launch monitor, PTR value or Smash factor might return some "strange" numbers since Trackman measure Ball speed vs club speed at the center of the face, but dont know where your impact was. Here is an illustration of what that might look like. Pay attention to the fact that club speed is different depending on where on the face we measure. Trackman made this illustration, and it shows a player measured to 100 Mph club speed.
We cant really get beyond 1.5 as PTR but if you can get 152 Mph ball speed from a club speed at the center who is 100, you DID gain 2 Mph ball speed so the PTR value of 1.52 is telling you was more efficient on that shot
SW value - Feel of head weight
- If your club head becomes to light (to low feel of head weight), put a piece of tape on the butt of your club head (scratch protection), then put a coin on the tape, and seal it with some tape on top of it.
- A dime is a more than 2 grams, who equals to 1 Swing weight point (rules of thumb*)
- Gripping down 0.5 will give the feeling of losing 3 Swing weight points / 6 grams / 3 x a dime from the club head. *On a driver at 44.00", 1 SW point is more like 1.6 grams as lead tape on the sole.
But don't trust the standard value of the Club to be right for you. Don't be afraid to try both higher and lower swing weight than standard to find YOURS.
How to simulate a higher shaft /total weight.
Total weight is mostly influenced from shaft weight, and when going shorter, it not unusual to want more shaft weight, and we can simulate a higher shaft weight by adding wgt where the SHAFTs balance point is. (without grip and connector)
If we dont know it. just use the middle of the shaft since most shafts BP is plus minus the middle and not by much
This way we get to test / simulate a suggested higher shaft weight, AND how it influence on the clubs balance / feel of head vs shaft weight since we added the weight on the balance point where the added weight will end real life if we actually made this shaft change.
NOTES
- Remember when you grip down, grip size goes down, and your grip might become to tight
A way to avoid this, if you first decided to do something about club length, buy a few cheap grips, and cut of the butt cap, so there is a hole straight trough. Mark the shaft, but dont cut it, add new grip tape from the cut mark and down, and the put on the butt cap less grip, all the way down, so the part you plan to cut off comes out of the grip end. Now you can test your new club length with full return.
If you found that the club you grip down on, and added weight to, becomes too soft, or you just wants it to be more stiff, then part of shortening or sometimes all should be cut from the tip side. This test will help you to find out before you just cut it and maybe spoil your chance to make it right at first attempt.
General info on tip trimming Graphite shafts
Flex dont change much when we tip trim a Graphite shaft, and compared to Parallel steel, we can use half as a rule of thumb. A DG Parallel steel shaft, respond with 2 CPM for each 0.25, while the average on Graphite woods is only 1 CPM for each 0.25. But, when the tip section itself gets shorter, there will be less tip to flex, and by that we change launch more than flex, when we tip trim a Graphite wood. We CANT tip trim a R flex to become a S, just forget that unless you have a "combi-flex" shaft at hand.
If we look on Drivers VS Woods, and follow the shaft manufacturer suggested tip trim for woods when we add weight to a driver head, the most common is 1/8 tip trim for each 2.5 grams added, but check the manufacturers web page for tip trim for your shaft. Always measure how much tip there is to tip trim before you jump to it. Remember you need at least full insertion, plus the ferrule left.
PS! Some Graphite shafts is butt trim only also for woods, so always check for info before you cut the shaft. You can follow the same steppes for tune up on all clubs in your bag except your putter, but you find Putter tuning below here.
DIY RULER
POST #8 further down belongs to this post for a better understanding about what shaft properties does to your swing.
PLEASE DO NOT SEND ME PMs ON CLUB TECH ISSUES - ASK PUBLIC IN THE FORUM.
Unless you are a former Customer or someone i already have a PM dialog with, i want reply to tech questions on PMs.
Post edited by Howard_Jones on
Leave a Comment