Level Up Player One: My First Round Under Par (with some extra motivation)
pearsonified
Extreme enthusiast
Members
Posted:&nbsp
WRX Points:&nbsp130
Handicap:&nbsp1.7
Posts: 1,839
Platinum Tees
I'm fascinated by real-world tournament stories, and I know some of you fellow degenerates like 'em too
/biggrin.png' class='bbc_emoticon' alt=':D' />
Today I'll share my most recent story, which sorta feels like a miracle now that it's over. Read on!
**********
This year, my tournament performances have been mostly terrible through September 2. While my GHIN handicap has stayed in the 1-2.5 range for most of the season, I've played closer to a 5 in tournaments and haven't shot better than +3 (once) and +4 (twice).
With only one exception, I've been absolutely terrible in all 2+ round events with decent fields. As a result, I've accomplished very few of the goals I set for myself at the start of the season.
**********
On September 16, I showed up for a 1-round event at a course I almost never play and proceeded to hit a few balls on the range.
After 20 lackluster swings with PW and 7i (and very little practice leading up to the event), I was desperate—poor contact, weak misses to the right, and a few deep pulls.
With a 7i still in hand and 20 minutes to go before tee time, I had a bit of an epiphany about releasing the club face. To make it happen, I simply had to allow myself to pull the snot out of the ball (my brain hates this).
Flush city.
And here's the thing—I wasn't pulling the ball very much at all. I had to aim a few yards farther right than I've grown accustomed to, but after finding the center of the club face with the 7i, it only took a few swings with other clubs to get everything dialed in.
I capped off the warmup with some drives that were absolutely punished, and I headed to the first tee with ball-striking confidence like I've never had before.
As expected, I found the center of the club face all day and proceeded to shoot an even-par 71 (73.4/130) with 4 birdies, 14 GIR, and 10 FIR—a bona fide ball-striking bonanza.
Some a-hole shot a 70 with consecutive birdies coming in, and although I didn't win, I felt like I had operated on a new plane all day. I knew I could knock my ball around with some control and confidence, and I knew I could score.
**********
Despite the high of
finally
playing well in a tournament, the ensuing days weren't great. It rained a ton; I worked the whole time; and then, on Thursday (Sep 20), life kicked my butt.
That morning, my dog—Mr. B, 5 days shy of his 15th birthday—woke up in a lot of pain. He'd had a tumor on his right foreleg for many months, but it "breached" this week and really became a problem.
He was having trouble moving, and the tumor started bleeding and leaking pus all over the house.
I knew he'd had cancer (or at least a bunch of internal tumors) for at least 5 years. The thing is, his energy always remained pretty high, and his mobility was excellent until the last couple of weeks.
After putting it off for a couple hours, I made an appointment at the vet and loaded Mr. B into the car. I was prepared for this to be our last ride together.
(Whenever stuff like this is happening, you just sorta float through the experience because it's all too heavy.)
We arrived at the vet, got some blood work done, and then waited for the results.
Twenty minutes later, the vet came back with unsurprising bad news: Mr. B had advanced cancer, and he would likely die if we tried to remove the tumor because his body didn't have the white blood cells to repair damaged tissue.
He was in so much distress over the tumor that I knew it was over.
This was our last moment together.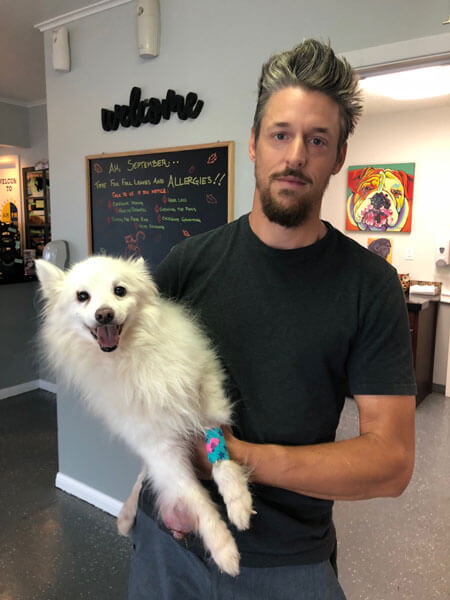 That night, I didn't sleep a wink.
I'm sure I was a little bit heartbroken, but honestly, I just felt so
strange
. When you lose a companion like this, the things you begin to notice are all little things you probably never gave an ounce of conscious thought to before:
When I got up to pee, no one stirred in their beds to see what I was doing.
At 8am, I didn't have to fill a food bowl.
When I went upstairs to my office, I didn't have to worry about anyone else's knees.
Just a bunch of little stuff that gives you big feels when you start sorting it out after a loss.
The next day, Friday, was just a weird "readjustment" period. The relentless September rains continued, and I finally got the energy to hit a few balls on the sim that afternoon.
I hit about 60 balls—my first swings of the week—and didn't feel like I was finding the club face the way I had the previous Sunday.
But who cares? Golf felt really unimportant, and my mind was somewhere else.
Even so, I was scheduled to play in a 2-round tournament that started the next morning. I was hopeful I could at least get some sleep and not go embarrass myself.
**********
I woke up the next morning sometime before 6am to the sound of relentless, heavy rain. My thoughts: "Great, I get to go slog through the rain and mud for 5 hours, shoot 80, and be super disappointed about everything in life."
A+ mentality, obviously.
But over the next 4 hours, the rains broke, and I managed to find the center of the club face on the sim.
Suddenly more upbeat, I headed to the Bluebonnet Cup (which has a pretty strong field by Austin amateur standards) and began my warmup.
By the time I reached the driver, I had this weird "vision" that hit me out of nowhere—I felt like I was going to shoot an under par round in this tournament!
I had ZERO reason to think this was even a remote possibility.
I had never shot under par before in
any
round, tournament or casual.
My previous best 36-hole score was 153. In at least a dozen tries, I had never finished in the top 50% of the field in one of these higher-tier Austin events.
And I almost never play the host course.
As I headed to the first tee, I thought about Mr. B. I thought about the fact he'd sort of "come in second" in a lot of ways during his life.
There had been times where I'd favored other dogs through the years. Beyond that, Mr. B was quirky as ****, and some of the girls I was with really found him annoying.
I let that stuff affect me from time to time, and like I said—I felt like he "came in second" to other concerns too often.
As I got ready to hit that first drive, I thought to myself: "I'm gonna play this thing for Mr. B. I'm gonna keep that consideration at the forefront above all other concerns, and he'll come in first—with me—today."
After a couple of solid pars to start my round, that little "vision" hit me again, but stronger—I was going to remain in control and
actually
do this thing for Mr. B.
I proceeded to make 4 birdies and an eagle, but two short misses left me at even-par 72 (70.7/114).
After making birdie on the final hole, I was thrilled with a solid round but a little disappointed that I didn't break par the way I had "seen" in my "vision."
But I had one more round to play, so I guess it was still possible.
Either way, I had now shot even par in consecutive tournament rounds, and I felt pretty good about keeping my friend in my thoughts and following through with a strong performance.
And I finally had a great night of sleep on Saturday.
**********
Sunday morning arrived with its typical calmness, and I was really looking forward to the second round of the Bluebonnet Cup.
I warmed up on the sim before heading to the course, and I was awesome—piping shot after shot right down the middle with authority.
Once I arrived at the course, I started thinking about my "vision" again. If I was going to make it reality, I had to go out today and shoot my first-ever under par round.
And if I did that, I'd probably finish top 10 in the tournament, which would be phenomenal given my record, my year, and my crazy week.
Fortune seemed to be on my side. My playing partners were a 15yo kid (lil b*stard shot 68!) and a guy who I knew but had never played with. He works at the course near my house, and we always shoot the sh*t on the driving range and talk about the tournaments we play (which is the same rotation, basically).
Bottom line: Good vibes.
But after a couple of opening pars (one of which was on an easy par 5), I made a double bogey after fatting a wedge into water on the tricky third.
I was +2 through 3 holes, and when you've never broken par before, you
really
like to keep things on the happy side of par rather than forcing yourself to overcome some slop like that.
Normally, a double bogey in a tournament really bums me out. I am just not "clean" enough to get through a round without mistakes, and dubs are the one thing I focus on avoiding above all else.
But this time was different.
I knew I was going to make some birdies, so I focused on that and didn't worry about the dumb stuff.
After a meh shot on the par 3 4th, I lipped out a curling 35-footer for bird.
On the par 4 5th, I stuffed a wedge from 91 yards that almost went in. Boom—got one back.
On the par 3 6th, I hit a gorgeous PW from 147 to 4' and drained the putt. And just like that, I was back to even par.
I was still E on the 9th tee (a par 5), and I made a killer up and down for birdie to go -1 on the front.
The "vision" was still in play with 9 holes to go.
Naturally, it was a roller coaster.
After a par on the 10th, I made a weak bogey on 11 after a punch shot hit a puddle in the fairway and didn't roll out the way I expected.
The 12th is a very gettable par 5 that was made a little more tricky by a headwind (water and bunkers in play off the tee), and while everyone else appeared to be laying up, I knew a 2-putt birdie was my best chance for the bounce back.
So I pulled the big stick and absolutely crushed one. I'm not sure I've hit it that hard all year. My ball waved to the water and bunkers as it went soaring past, and my playing partners were like, "wtf just happened?"
With 160 remaining for my second, I hit an AWFUL shot and short-sided myself. I took my medicine, chipped it 18' past the pin, and proceeded to b**** about how I had wasted that tee shot.
My look at birdie was not a good one—downhill LtR slider, the worst kind of putt for me.
Naturally, I put it right in the center.
If you've played a lot of tournament golf, you know about the "key shots" that either keep a round together or propel you to a great performance.
As soon as that putt dropped, I knew what was up. This was my time, my opportunity.
But the hardest hole of the day, the 13th (204 par 3 tucked back right pin), was the next challenge. I hit a terrible tee shot and short sided myself
again
, but 12 feet below the hole and with a 20-yard flop shot as my only hope of getting it close.
I'll do **** near anything to avoid hitting a flop in a tourney, but I had no choice here. As I went to swing, disaster struck—I thinned the **** thing and unleashed a laser.
Miraculously, the ball hit the FLAG (not the pin) and dropped to the ground, 12 feet from the hole.
Everything on the other side of the green—where my ball was heading—is OB. If that ball doesn't hit the flag, my day is over.
Although I missed the par putt, I considered what had just happened over the last two holes: Unlikely birdie, miracle flag save.
And the next hole, the par 5 14th, is where I had made an eagle the day before. Let's do this!
Once again, I uncorked a bomb that left me only 196 to a front left pin. I tugged the approach ever so slightly, leaving me on the fringe with about 20 feet to the hole.
My eagle putt stopped dead in the jaws, one revolution short. Easy bounce back birdie, though, and still at -1 for the day despite a dub and two bogeys.
The 15th hole is a tricky little par 4, and I did the one thing you really don't want to do—go long with the approach, because all putts and chips from up top are downhill and very slippery.
My approach putt from the fringe trickled 4 feet past, leaving an uphill RtL putt for par.
I addressed the putt, felt weird, and backed off—something that's taken me 50 tournament rounds to force myself to do.
As I addressed the putt again, I felt a little less wonky, but I admit I was **** concerned about saving my par and the implications of another bogey.
I didn't hit the putt hard enough, and it lipped out on the left side.
Now back at even par, I was pissed. Another 72 wasn't going to do it. My "vision" was to shoot under par for Mr. B, and now I had no choice but to find a birdie on the final 3 holes, two of which are tough with difficult greens.
I ripped a long iron off the 16th tee, leaving 128 to a back right pin. With water short and right, I took a slightly conservative line left of the flag, leaving 19' of downhill LtR break for birdie.
Although I had made a similar putt on 12, this one had more break, more speed, and was just not a great look.
Of course, I hit a perfect putt and watched as the ball died on the pro side and dropped into the cup.
Unbelievable. That was my 6th birdie of the day, matching a feat I've only ever accomplished twice before (and never in a tournament).
The writing on the wall was clear: I HAD to close this thing out.
The 17th is a par 3 that plays entirely over water to an undulating green, and on Sunday, it played 170 to a front right pin with a decent RtL wind.
I hit it pin high but to a spot where I'd have to negotiate speed and a huge LtR break (like 8 feet).
I struck a beautiful approach putt and cleaned up my par from inside 3'—followed by a MASSIVE sigh of relief after getting out of there with a 3.
The 18th is an easy, short par 4 with OB left, and I aimed at a fairway bunker 10 yards right of the fairway to avoid blowing up my round and my tournament on the final hole.
With only 66 yards to the pin, I lost focus a little bit. Tiger had just won the Tour Championship, and our group was talking about it and watching the action on our phones.
I failed to lock in mentally on that shot, and I left it short on the fringe with about 21' to the hole.
After a poorly struck putt and a bit of a misread, I was looking at 4.5' for par and my first-ever round under par.
I had missed 3 similar putts over the previous 35 holes, and none had more on the line than this one.
I told myself to step up and "just knock this f*cker in," and that's exactly what I did.
Boom.
**********
As we walked off the 18th green, the skies opened up, and it started to rain. As we continued up the hill toward the club house—with the rain falling gently all around—I reflected on the week I'd had.
And I started to cry.
(I am about the furthest thing from a "crier" you'll ever see.)
Somehow, the "vision" had come true! It almost felt like it had been true all along, and I just had to walk the path.
I couldn't break par for me, but dammit, I did it for Mr. B. I was so overwhelmed by the sheer perfection of the moment that it took me a few minutes to realize the totality of what had happened:
I had never broken par before.
Obviously, I had never shot under par in a 2-round tournament before. ****, I hadn't shot better than 153 in a 2-round tournament.
I had never finished in the top 10 of a "big" amateur event with a field of more than 40 players.
With 10 birdies and an eagle over 36 holes, I
crushed
those glass ceilings.
Right now, it feels like a miracle.
**********
As I write this today, I feel nothing but absolute gratitude.
I am so grateful for every missed 4-footer, every bogey on the 18th, every stupid double bogey, and every little failure that ever caused me to shoot over par before this past weekend.
The final round of the Bluebonnet Cup was a microcosm of all those things—a dub early, a short miss for par, an extremely difficult 17th hole, and a knee-knocker to close the thing out—and I overcame it all to post a number that had eluded me for over 500 rounds.
I know there's a ton of great golf in my future, but I doubt it'll ever get any sweeter than this.
Callaway Fusion 9º
•• Matrix Black Tie 75m4 X
TM 2016 M2 3HL 16.5º
•• Aldila NV 2KXV Orange 65x
Callaway Apex 20º
•• Project X EvenFlow Black Hybrid 6.5
Adams CMB 4-P
•• DG TI S400
TM MG 50º/9º
•• Project X LZ 5.5
TM MG 54º/11º
•• DG Wedge
TM ATV Grind Tour Spin 60º
•• KBS 105 Wedge
TM TP Patina Del Monte 35"
2020 Index: 1.7
2020 Anti: 5.5
Tagged:
Leave a Comment