A Ping Putter for True WRX'ers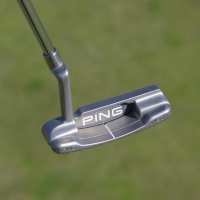 alexdub
Don't check out of your hotel Rocco
Utah
Members
Posted:&nbsp
WRX Points:&nbsp181
Posts: 1,149
Platinum Tees
For the true WRX'ers — a WRX putter.
Like everyone else, trying to clear out some of extras this winter. I've gamed this Ping WRX Ti4 putter off/on for a few years but it has been collecting dust as of late. I recently refinished and cleaned it up, so it's looking in awesome shape. Refinishing included bead blasting, new paint, and a color change of the neck. The black color on the neck is an industrial strength, high-heat enamel paint and not anodized. Overall, I believe the WRX crowd would approve of my usage of the term "near-mint" to describe the putter's condition.
I'm not the original owner, so I'm not 100% certain on specs. Length is 34" from center of face to butt of grip and I'm almost certain it is black dot. Because this is the Ti4 model (longer-ish) neck, it doesn't have much toe hang and would fit those who have something resembling a straight/straight putting stroke. In that regard, it's pretty similar to the standard Anser 5.
Price: $90 shipped.
Please no trade offers — I already have an overflowing and guilt-inducing amount of golf equipment.
Clubs: Ping G400 Max • Ping i25 5w • Ping i25 4-U • Ping Tour W 54* & 60* • Ping WRX Milled Anser 0
Shafts: Fuji ATMOS Black 6X • Fuji ATMOS Black 8TX • Nippon Modus 120X
Balls: Titleist Pro V1 • Srixon Z Star XV
This discussion has been closed.