Huge Shot Out to PXG! Fitting Today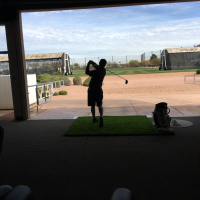 OspreyCI
Valley of the Sun
Members
Posted:&nbsp
WRX Points:&nbsp428
Handicap:&nbsp10
Posts: 5,325
Titanium Tees
Just got back from my driver fitting at PXG HQ in Scottsdale. That was amazing and Tyler took suck great care of me. Big thanks to Bob Parson for having the Hero's Program and allowing me to be fit for free. I am now a huge fan of PXG and how they support Vets and First Responders. Tyler treated me like a king. What a great day it was! I have been fit at Club Champion and also by Ping at their HQ in Phoenix. This was a different level.
I ended up hitting 0211 irons as well as a putter fitting. The putter fitting was almost my favorite part. Tyler put me into a putter based on my stroke into a head I would not have looked at and I saw an immediate difference. I was making putt after putt. I will be buying a Gen2 Gunboat for sure (at a reduced price thru Hero's program). Currently using a MyTour Spider BTW.
The 0211 irons have amazing feel and are just so good. Currently using P790's. I had them paired up with PX 6.0 shafts that felt so much better than my Modus 105 shafts. Those will be a buy in my future too. I will go back in for an irons fitting before I pull the trigger on those.
The driver fitting was awesome. Hit my M6 GD AD DI and was fit into a Gen 2 0811x Tensei Pro White. Wow that driver is crazy good. Dropped my spin by almost 1k and added like 20 yards. I was way more accurate too. I don't have the print out, but I saw all the numbers and they were so much better than my current (not fit) setup. The Pro White shaft is so solid paired up with that head.
I cannot thank Tyler enough for giving me the best time ever doing a fitting. What a professional and great guy he is and really appreciate the time he spent with me. I was the only person in there being fit and he was able to spend extra time with me.
Thank you PXG for this and for Tyler's time.
TM SIM Max D 10.5 GD AD VR 6s
TM M4 15* GD AD DI 6s
TM M2 #3 19* Fujikura
TM P790 4-AW Modus 105
TM MG2 54*
TM HT Bigfoot 60*
PXG Gen2 Gunboat
Leave a Comment