Was this ever a rule? Ball struck by another ball not being replaced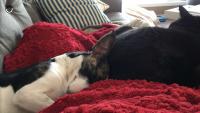 cmagnusson
Members
Posts: 534
✭✭✭✭✭
Scenario: playing a casual round as a threesome yesterday. I hit my approach shot, pin high on the right fringe. Next group member hits on, then our third player hits along the same line as my ball, ends up striking it on the first bounce and shoots it to 6 feet.
As I go to replace it, the uninvolved player (second to hit in the above sequence) says that as my ball was not on the green, it does not need to be replaced. I'm about 95% sure he's mistaken, but for some reason there's a feeling deep in my gut that he's right. Just in case I play two balls and note to resolve this after the round rather than taking time to google it while on a crowded course. Afterwards, we look it up, and I card the up-and-down par I made from the fringe rather than the great birdie putt I made from the green.
But between him saying that, and it resonating so strongly with me, I ask: did the Rules of Golf ever delineate between balls on and off the green in regards to replacement after being moved? Was there a time that my bird would have counted? Or are we both sorely mistaken?
Cobra BioCell+ 8.5*D, Aldila RIP'D NV 65TX at 44.75"
Titleist 917F2 15*, Diamana Blueboard 73X
Titleist 917F2 18*, Matrix Deus 60X
Srixon Z U85 20*, DG-Pro X100
TaylorMade RBladez 5i-PW, Stiff
Tommy Armor 845 48* PW
Cobra Trusty Rusty 53*, 59*, DG S200
Odyssey White Hot OG #1 Arm-lock conversion at 7*, 42"
Leave a Comment