Iron Spin Rates. TM 2019 P790 vs P760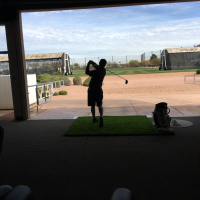 OspreyCI
Valley of the Sun
Members
Posted:&nbsp
WRX Points:&nbsp523
Handicap:&nbsp10
Posts: 5,610
Titanium Tees
Background: play 2017 P790's the release. Looking to upgrade. My shaft is the Modus 105 S .
Spent an hour at PGA SS with 2019 P790 7 iron and 760. Same shaft. Averaged:
P790 164 yds and 4900 spin
P760 154 yds and 6400 spin
Is the 10 yards worth the around spin reduction?
Not sure the 2017 P790 has made my game better. Yes, forgiveness is amazing, but are my scores better...
Yards versus spin make a difference?
PXG 0811x Gen2 smoke Yellow
TM M4 15* AD DI 6S Black
TM M2 #3 19* Fujikura
PXG 0211 4-PW Modus 120S
TM MG2 50* Modus 120S
TM MG2 54*
TM HT 60*
PXG Gen2 Gunboat
Leave a Comment