Looking for new grips. What do you use?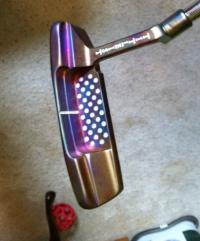 danattherock
Members
Posted:&nbsp
WRX Points:&nbsp136
Posts: 3,558
Titanium Tees
So many choices, make a suggestion.
I use jumbo grips in the past, but have been rethinking that. Perhaps just getting regular or midsize grips and getting 5-7 wraps of tape. There are so few choices in jumbo grips anyway. Got some new clubs from Callaway Preowned and had them tape them up (8 wraps). They used the standard Callaway grip of course. I like the size/feel better than the jumbo Winns I have used for years. Seems to have better feel. I used the Winn Excel for a long time, too soft and wear out fast. Had the Winn Pci half cord for the last 8 months, but they are a bit too firm for my taste. Looking online, so many choices, Lamkin, Golf Pride, etc... Just thought I would ask what you guys use and why. Looking for grips for all my clubs but would rather ask here before taking the leap. I mostly want something with a good feel and tacky feel. Something that will feel good and secure in my hands, but not be too soft like the Winn Excel and wear out prematurely. The Lamkins (white dots all over it) looks nice, but never seen one or held one in person. Sound like a tard? Yeah, I am sure, but I can't get to a golf shop since I am working on an island (Nantucket) so I will have to make this purchase blind. It cost me $200 to fly over to the mainland, rent a car, and fly back. Can't spend $200 to go feel grips. Relying on the good folks here for some guidance. Thanks guys!
Leave a Comment