Oakley Hybrid Style Frames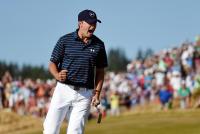 Wdwfreak
Golf Pro - Wisconsin
Posts: 1,022
✭✭
I asked awhile ago and got some great tips that led me to getting Prizm road lens for my radars (highly recommended for bright sunlight and lower light conditions, great combination)



Now, because i'm a little sick of how big and bulky (and dorky) my Radars look and feel and wondering if anyone has used a more lifestyle oriented pair with success on the course?



I know I can get the Prizm Road lens in most pairs of oakleys which is great, and looking at those pairs I see the Crossrange which may be just what i'm looking for, and others too. I wanted to ask around if anyone has tried or likes the crossrange it sounds like a good idea.



My main concern is not getting too large a bottom frame that can really bug me particularly when putting, and secondly not slipping down my nose, my Frogskins can almost be good on course but then it gets warm and they start sliding.



Thanks for any leads or advice, I appreciate it!
Taylormade M3 460 8.5 HZRDUS T1100 75X
Titleist 915fD 3 Diamana White 80-TX
Titleist TS2 5 Fujikura Atmos Tour Spec 8TX
TItleist AP2 718 4-6 DG X100
Titleist 718 MBs 7-9 DG X100
Titleist Vokey SM7s 46F DG x100, 50F, 56S, 60M DG S400
SIK Pro-C Arm Lock 40"