***ATTENTION***IMPORTANT ANNOUNCEMENT***ATTENTION***IMPORTANT ANNOUNCEMENT***ATTENTION

Last year, in an effort to improve the capability of our forums, we switched to new software. We expected tremendous scalability and rapid customization that would significantly improve each Member's experience across multiple devices and integrate flawlessly with social media platforms.

Unfortunately, after a significant capital expense, we have decided that the length of time and the additional cost to reach our goals make this enterprise untenable.

Thus, we have made the difficult decision to transition the forums to our original software platform. We're excited that, in the nearly two years since we began the process of our most recent switch, our original platform has been upgraded significantly, and we are confident that the reversion will not only provide the stability that we desperately needed prior to our last move but will also return to the Membership the high level of customization that made our online community so great. We have also added technical resources to the GolfWRX staff that will allow us to build custom modules and modifications that we are confident will take the forums to the next level.

We remain the world's largest online golf community, and we still hold true to our core values and mission statement as written in 2005. Bearing both of those elements in mind, being the best and offering our Members a platform that is world-class are both requirements, not options, and it is that spirit that has motivated this decision.

So, please pardon our mess over the next five days or so while we transition the forums.

A few important notes: Current content will be accessible during that time, but the forums will be READ ONLY, and you will not be able to start new threads or reply to posts. Personal Messaging is enabled but PMs sent/received from the time the board was frozen will not carry over. We know this is inconvenient, and we apologize, and we greatly appreciate GolfWRXers bearing with us through the transition.

We are very excited about starting this next chapter for GolfWRX and getting back to the high-quality Member experience we all expect as soon as possible.
What's in the garage? COBRA - CALLAWAY - PING - ADAMS
gulpeg
ClubWRX
Posted:&nbsp
WRX Points:&nbsp66
Posts: 65
Bunkers
KING F9 TOUR LENGTH SPEEDBACK DRIVER - 9° STIFF - $375 OBO (From Cobra website - $449)
This club has very little use, less than 10 rounds. Please read the included description from the Cobra website, this is a little bit more of player's club. It's great!
· Has Fujikura Atmos Blue Tour Spec 7S shaft (the real one).
· Shaft weight - 74g stiff
· Includes original head cover
· Includes Cobra wrench
· Total club length = 44.5"
· Grip - Cobra stock with Arccos module (never activated)
· Condition - Used but in great shape.
COBRA website description:
"Inspired by Rickie Fowler's 43.5" driver used on Tour, the KING F9 SPEEDBACK™ Tour Length driver is configured with a shorter 44.5" playing length, and 18g & 6g weights to help deliver more accuracy off the tee without sacrificing distance."
SOLD - CALLAWAY APEX PRO '16 - 4-PW STIFF - $550 OBO - SOLD
Almost new, very little play.
SET: 4 thru PW
SHAFT: Nippon N.S. Pro Modus3 Tour 120 (stiff)
LENGTH: Factory standard
LIE: Factory standard
LOFT: +1° strong (easily changed if necessary)
GRIP: Golf Pride Multi Decade White/Black standard




4 -7 irons

8 -PW irons

PING GLIDE 2.0 STEALTH WEDGE SET - $275 OBO
Excellent Condition Used 1 round - CLUB RATING: 9.0 / 10.0
LOFTS: 50° & 54° & 58°
LIE ANGLE: 50° = BLACK DOT, 54° & 58° = BLUE DOT
BOUNCES: 50/SS (12°) 54/SS (12°) 58/SS (10°)
LENGTHS: ALL STANDARD
SHAFT - 50°: PRECISION RIFLE 6.0
SHAFT - 54° & 58°: TRUE TEMPER DYNAMIC GOLD X100
SHAFT FLEX: STIFF
GRIP: PING WEDGE
GRIP CONDITION: LIKE NEW
GRIP SIZE: STANDARD
50°


54°


58°

PING GLIDE 2.0 STEALTH WEDGE SET - $170 OBO
52° wedge had custom PING Heel grind added to it. In doing so, it strips the black coating from the Stealth wedge, leading to the rust that appears. It's cosmetic and DOES NOT affect play ability. CLUB RATING: 8+/ 10. Excellent Condition Used roughly 5 rounds
LOFTS: 52° & 56°
LIE ANGLE: 52° & 56° = BLUE DOT
BOUNCES: 52/SS (12°) & 56/ES (8°)
LENGTHS: ALL STANDARD
SHAFT: TRUE TEMPER DYNAMIC GOLD X100
SHAFT FLEX: STIFF
GRIP: PING WEDGE
GRIP CONDITION: MILDLY USED
GRIP SIZE: STANDARD

52°


56°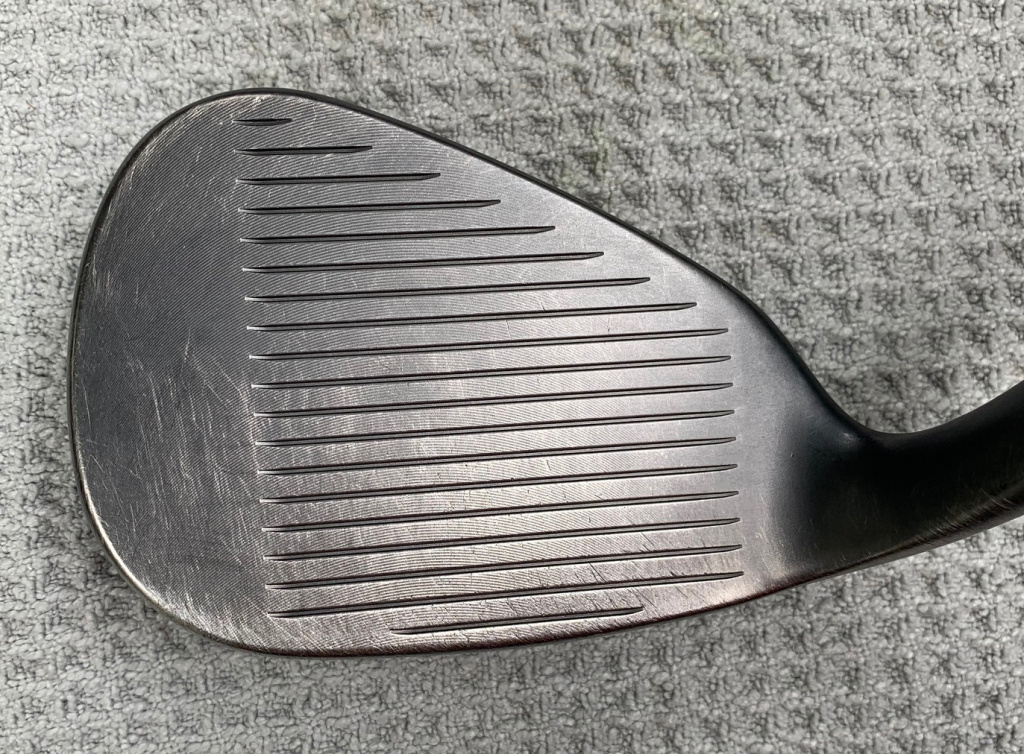 SOLD - ADAMS IDEA CB-1 IRON SET - 4-PW STIFF - $150 OBO - SOLD
SET: 4 thru PW
SHAFT: Aerotech Steelfiber 95i S (stiff)
LENGTH: ¼" over "industry standard" = 38¼" 5i, all clubs in ¼" increments from that measurement.
LIE: unknown
LOFT: unknown
GRIP: WINN DuraTech Black standard size
The face pictures are of 4-7 and 8-PW. There is also a minor finish issue on heel of 8i (see pic). This is purely cosmetic and DOES NOT affect play ability. Clubs will have expected bag chatter, but minimal considering their age. They're in great shape, with LOTS left in the grooves. A great price, just considering the shafts alone!

4i thru 7i


8i thru PW


I have bought/sold many golf related items both here and on eBay (pgcsf) over the years. Please check that my feedback if in doubt. It shows that I try very hard to describe my offerings as accurately as possible. If you have any questions, please feel free to ask and I'll do my best to get back to you quickly and answer honestly.
Lastly, I request PayPal only for transaction and request an additional $10 for any item sold to cover a portion of shipping, I will cover the rest.
Thanks for looking.
Pin 9/27
Post edited by gulpeg on
This discussion has been closed.