Johnnybogey's WITB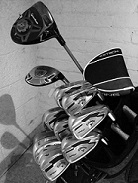 johnnybogey
Members
Posts: 1,820
✭✭
The bag is finally set!!!! (sure we've all heard that before).
About me: 37 years old, 20 capper , swing speed around 95-105mph. Average drive is around 250-265 yards.
Driver: Taylormade Black R1 with Graphite Design Tour AD-DI 7S (plays at 44.5". Replaced stock 10gm weight with 4gm)
Hybrid: Ping G10 15* stock shaft regular flex (yes, no fairway wood) tipped 1/2" plays at 40.50". The Ping G10 is a special club. Has almost a cult following. I picked this up a few years ago for $40 used. On a side note, the G10 was the last G line to offer a 15* hybrid. Unless Ping starts offerring again, I may have to stock up.
/smile.png' class='bbc_emoticon' alt=':)' />
Irons: Callaway Apex 4-AW XP95 stiff shafts plus 1/2" in length and 2* upright. These are the newest addition to the bag. Long time (been playing for about 8 years now) Ping player (Rapture, G5, G10, G15). Finally decided to get fit this season and to my surprise Callaway Apex won!!! Added bonus, they look freaking sweet!!!
Wedges:
Cleveland CG14 54* - 14* bounce for fluffy lies
Ping iWedge 56*
Ping Tour Gorge 60* TS - 8* bounce for tight lies
Putter: Ping Ketsch 35" slight arc.
PXG Gen2 XF 9* Tensei Pro White 60s
PXG Gen1 17* hybrid EvenFlow Blue 85g 6.0
PXG Gen1 19* hybrid Tensei CK Blue 80g S
PXG Gen1 0311 5-AW Recoil Prototype 95
Cleveland CBX 54*
Cleveland CBX 58*
Bettinardi Inovai 2.0
WITB Link