Transition to Graphite Shafts? Advice needed...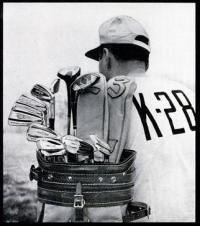 Dcohenour
Members
Posts: 600
✭✭
Background: I have arthritis and am feeling the effects of playing the classic clubs (I think). I'm not sure if the pain is from hitting steel shafts or what, but I am thinking of looking for some graphite shafted irons and regripping them with larger, non-tapered grips. Then setting up a condensed set w/ 5 - 7 clubs max.
My question is, in a classic club, what have others looked for and purchased?
I would start with a partial set, just to try it, and pair them with a graphite driver and fairway wood. So maybe 4 clubs, 3, 5, 7, & 9. I don't see that graphite in my PW, SW or Putter would make that much difference.
Any thoughts? Thanks in advance.
/to_become_senile.gif' class='bbc_emoticon' alt=':to_become_senile:' />
P.S. had thoughts of putting larger grips and shock absorbent inserts in the Ping Eyes I have. Maybe that would work.
P.S.S. I guess I should have said that this will be my "feel bad" set, for when I go out aching. Summers are so short here, I have to take advantage of every opportunity and have to keep 'er moving with arthritis, so....
OGA #1972-2018
Post edited by Unknown User on