Style of Play for Vintage Clubs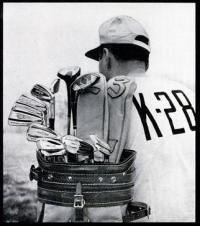 Dcohenour
Members
Posts: 600
✭✭
All,

Regarding the use of vintage clubs, wasn't the style of play different than it is now, since the advent of titanium / game improvement / graphite / modern balls?



I seem to recall that the game was played with lower trajectories, and there was in general a lot of run up shots. I was watching some older film last weekend and noticed how many approach shots during those US Opens were bouncing on the fairway running up to the hole.



So my question is, shouldn't our expectations regarding the use of vintage equipment be that our trajectories will be lower and that we will play the game closer to the ground? I mean, if I am expecting to get more carry and less roll, all things being equal, then I think my expectations are a bit out of whack with vintage and my course management needs to be adjusted to take that into consideration.



And if I am playing a modern course that isn't really designed to allow for run up shots, then I am going to have to be more creative using vintage. Does this sound right? or am I all wet?

Comments welcomed, as always.
OGA #1972-2018