PING Anser Irons – Story, Video, and Pictures Inside!
For an overview of GolfWRX's trip to Phoenix, read this linked thread.
Having arranged plans to travel to Phoenix, I was fully expecting to see the successors to PING's S56 irons. It seemed a natural fit as October marks 2 years since the S56 release and with rumors surrounding an 'S55', well...turns out I was dead wrong. While at PING headquarters, Wyatt (SheriffBooth), Greg (pga43), and myself were able to get a preview of the forthcoming Anser line. Boy were we surprised!
Initial impressions are simple - S56 meets i20, but forged. It's a slimmed down version of the previous Anser iron. Personally I have gamed S56s, i20s, and currently have 712 AP2s. These new Anser irons remind me exactly what I've been looking for - they remind me exactly of Titleist's AP2s. I know that many complaints surrounding the previous Anser irons involved them being too large, too much offset, etc. Well trust me when I say that PING addressed those complaints. They have soft lines, low offset (just barely more than S56, less than i20), and a crisp feeling at impact and going through the turf. Forged from 8620 steel, with some tungsten in the sole, the feeling at impact made me think of a cross between i20 and a typical forged blade. Very solid. It comes in a brushed satin finish, come stock with your choice of PING CFS or Project X shafts - but get this - can be ordered with ANY shaft offered through PING WRX at no upcharge, save Project X PXi. That's right, ANY SHAFT upgrade, as offered by PING WRX (they have a rather large selection), except PXi, free of charge. Pretty cool, eh?
As for performance, I had limited time with them. Just a little warm up in the morning before hitting drivers and the game of 'WRX' Wyatt and I played against Marty Jertson. I did enjoy my time with them at PING's range, but would really benefit from more time with them to give a fair review. Let me say I find them very intriguing, very similar to my AP2s, and a set I really, really want to try out. I think this is a set of clubs that will get plenty of positive feedback from those that use them. An overall balanced, stylish, performance based set of irons that provide the best of everything possible from a technological and aesthetic perspective. Multi-material, high MOI, stabilization bars that help flight the irons so long irons fly higher and short irons fly lower. These clubs are really the complete package and I only wish I had more time to test them out side by side with something I'm more familiar with to get a baseline comparison.
That all said, here is what you boys want, pictures! Included at the bottom are comparison shots with the previous generation Ansers. Feel free to ask away your questions and post your comments!
[media]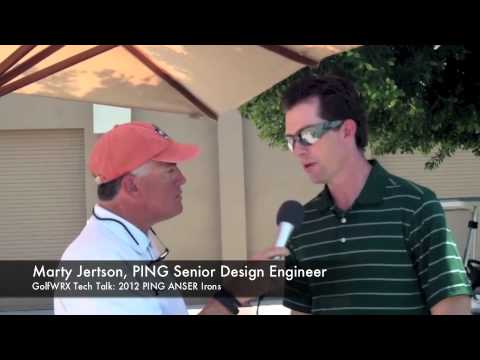 Post edited by Unknown User on
Leave a Comment