My Carl's Golfland Contest Fitting Experience (grab a drink)
Hi everybody, Rob here. This is going to be a long one, because I feel like a contest of this magnitude deserves a post with my thoughts about going through the process and I hope that as a normal guy who happened to be in the right thread at the right time, I can relay to everybody else what happened in GolfWRX fashion. So grab a beer and read on if you're bored!
Contest link:
http://www.golfwrx.c...e-check-inside/
First things first, I need to thank GolfWRX, Carl's Golfland, and everybody who made this trip possible. I had an amazing time on my trip to Detroit, meeting everybody, and of course getting on the Trackman and getting my first real fitting!
I've got to say, when I got a private message from ScreamingViking, I almost thought the message was fake. It wasn't until Neal, VP of Carl's Golfland called me that I really started getting amped up.
/swoon.gif' class='bbc_emoticon' alt=':swoon:' />
So we set the trip up, and Neal was gracious enough to offer to also fly my wife out! I was going to just buy her a ticket because her cousins live in the area and she went to U of M nearby (barf) but Neal wouldn't accept our plan. Instead, he booked us 2 first class tickets, and reserved our hotel for the night. Class act!
About me –
31 years old. 5'9", 145 lbs (dripping wet).
Haven't played enough rounds recently to really get into the groove. I'd consider myself an average golfer as I have friends that played HS golf and attempted college and I never did. Have never carried an official GHIN/USGA handicap since I don't belong to a club and jump around to different public courses. Per my "Handicap Tracker" App on my phone, I'm hovering at a high single digit the past 2 years (8.8-10.2). I'm guessing if I had the time, I could work my way down to a mid-single if I really worked at it.
Sweeper/Picker type swing, mostly don't get too large of a divot besides the wedges. High ball hitter. Miss is usually thin and off the toe. Biggest challenge is hitting fairways and thus hitting greens in regulation.
Been playing golf now for about 17 years? Got into the game when a friend of mine wanted to go to the driving range one day. I was a teenager and thought golf was for old stuffy folks (some would argue this was a correct assumption). Since that day, I've been hooked. Didn't hurt that Tiger Woods had just won the Masters and was the coolest cat around. I caddied in high school and worked in a club bag room too; had those jobs for about 7 summers for high school and during college. Played a ton then and was at my best when I was about 20.
It's my estimation that I'm somewhere between an S flex and X in most standard shafts, or so I've played the last 12 years (clearly as a WRXer, I've been flexing up). Last 5 drivers have been in an X-flex until my most recent. Always played S300 shafts in my irons until the current set.
My Current Bag:
Callaway Razr Fit Xtreme 9.5 with Matrix Black Tie 7m3 S at neutral
Callaway X-Hot Pro 13.5w with Project X 6.5 Velocity Pro
Adams Super LS 17h with Kuro Kage S
Cobra Amp Forged 4-PW with Project X PXi 6.0
Cobra Tour Trusty 48 with S200
Callaway 52 and 58 Forged Copper S300
Scotty Cameron Red X
Day One:
Woke up early to get to the airport on time for the 9-something flight. Our flight was delayed by an hour and a half or so, and we landed in the early afternoon. My first fitting was supposed to be at 3pm, but Neal and Ryan kindly pushed it back to 3:30 so we could get checked in and then get to the shop.
Upon arrival, we were met by Neal and my fitter, Ryan, as well as ScreamingViking and Carl (his Golfland) and the rest of the shop staff. We chatted for a minute or two in the store, but quickly they told me to grab my bag and head to the LaunchPad!
For those who haven't seen it, check out Carl's Golfland website and click on fittings on the top, and then on the Launchpad link like 1/3 down. There's a virtual tour. This place is so cool. It's essentially a 4 garage-bay outdoor range, but each bay is fitted with trackman and has a heater, and chairs to relax in. The main hallway is fitted with walls of every club from major manufacturers and all the shafts out on the market. At one end is a lounge with a big screen LCD and leather couches to relax on. It's like a club but at their shop.
Launchpad Hallway
The fitting
(all premium balls by the way)
My fitter, Ryan, had me start off by warming up with some wedges, and we talked about my game, my misses, and obviously, what kind of clubs I've played. I've never seen a Trackman let alone get fit on one. I knew very little about my numbers. I'm kind of a "Bubba-ish" kind of guy I guess – I love golf, love watching golf, talking golf, but I've never taken a lesson and I like to just beat balls at the range until I've "figured it out".
Irons:
We started with my 6 iron in order to get my baseline stats. Below are average of my first shots.
Club Speed: 91.1 mph
Smash: 1.35
Ball Speed: 122.9 mph
Launch angle: 15 deg
Spin: 5382
Carry: 179
Total: 189.5
My numbers kind of surprised me. I thought I'd be between 85-87 mph with a 6-iron. The carry number translated well with my on-course estimation.
This is all complicated by the fact that I know that Ryan is the reigning Michigan Amateur Champion, and that Carl's has A VIDEOGRAPHER here to document the fun. I'm only a little nervous at this juncture...
/blind.gif' class='bbc_emoticon' alt=':blind:' />
Ryan quickly got a sense of my swing and the kind of heads and shafts he was going to try out. I think he quickly had me pegged as a "players/GI iron" similar to the Cobra Amp Forged I'm playing. Over the next hour and a half, I hit a ton of shots with 6- and 7- irons.
Clubs we tried:
Titleist 714 AP2
Day 2:
9AM – Meet up with the staff and Neal takes us on a tour of Carl's Golfland and gives us the history of the shop. It's family owned, been in the same location forever, and is a really cool facility and business. It's by far got the most clubs I've ever seen in a single shop. I work next to 2 big national golf box stores and Carl's has them beat by a mile. They carry all the normal brands, as well as Srixon, Epon, and Miura in house! There's the giant section of shoes, a rooms of apparel, and then a putter/used clubs section. I think they fit more stuff than a GG but into a smaller, friendlier space.
They also do all the online sales out of this location, and have a warehouse upstairs where they keep inventory and do hundreds of online shipments per day! Also on site were the corporate offices and IT and internet guys. Outside are the full outdoor grass and mat driving range, LaunchPad, a real putting green and sand/chipping area. They have several PGA Professionals that give lessons there too.
Very cool independent shop! I'd heard of Carl's before but I can say that in my lifetime, it is by far the coolest golf store I've ever been to. And genuine golf fanatics too. I'd be willing to bet that the store sales guys all probably carry low-digit 'caps and play competitive golf.
Zak from GolfWRX was there too, we chatted about my game and my bag, and he came to the bay to hang out a little while Ryan and I get started. My wife jets for the long day of shopping she's about to have, and it's party time!
Irons:
Finishing what we started the day before. Time to choose between the Srixon 745, Titleist AP2, and Mizuno 850 Forged. I'd have been happy with any of the three. Swing was better on day 2. I hit all of them a bunch and we settled on the Mizunos based off forgiveness and launch specs.
The Srixons are beautiful but a little less forgiving, and the AP2s were a little too high launch/spin for my swing (but were beauties too and if I were to have had any preconceived notions I'd have picked Titleist for the whole bag).
The old adage "hit the most forgiving iron you can stand to look at" was in full effect. To be honest, the 850F looked maybe a tad long heel-to-toe, but plenty thin on top for me, and I couldn't argue with the results. It felt nice, it was straight, and it was pretty. Definitely not as soft as my old MP32, but clearly way more forgiving (I may be macho but I've given up on the blades and even players cavities).
The day before, we had pinned the C-Taper X as the boss, but Ryan wanted to try something a little lower-launching.
We put DG TI x100 and s400 in there, and were pretty happy with both. Ryan thought it would be safer to go a little softer as opposed to stiffer, so decision made. Who am I to argue with the Master Fitter and +one-million-handicap Michigan Amateur Champion?
Driver:
I hit a million drivers. Started with my own and hit some good ones. I heard Zak say to Ryan, "guy's got some speed", with a head nod in return, which I'll take as a complement from a couple of really decorated collegiate and competitive golfers
/wink.png' class='bbc_emoticon' alt=';)' />.
My current driver averages:
Club Speed: 104.8 mph
Smash: 1.44
Ball Speed: 151.4 mph
Launch angle: 9.5 deg
Spin: 2611
Carry: 239.4
Total: 270
Drivers I tried:
Titleist 915D3
Titleist 915D2
Ping G30 LS Tec
Ping G30 (I think)
TM R15
TM Aeroburner TP
Callaway Great Big Bertha
Shafts:
Graphite Design AD-DI 6 x and s
Graphite Design AD BB-6/7 x
Diamana B 60/70 x
Fujikura Speeder VC Tour Spec
Matrix Ozik White Tie
Aldila Rogue Silver
https://youtu.be/XAZQ45OPiQk
[media]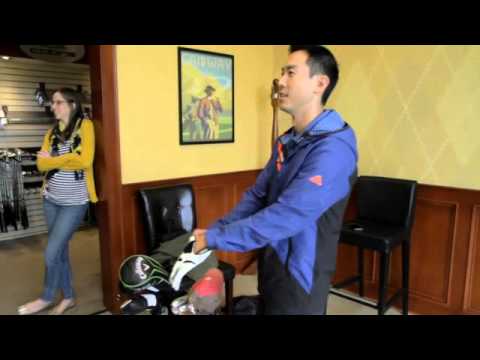 ***** 10/5 *****
THEY'RE HERE!
Heads still in plastic... I don't know if want to hit them or just stare at them. (Don't worry I'm going to play tomorrow!)
Boxes!
My Carl's Golfland / GolfWRX WITB story
Cobra F9, Atmos Black 6X
Taylormade Aeroburner TP 15*, White Tie x
Taylormade Auroburner TP 3h, White Tie x
Mizuno 850 Forged 4-P, DG TIS400
Titleist Vokey SM5 50F/54M/58M, DG TIS400
EVNRoll ER5
Post edited by Unknown User on