Current Ping Iron Lineup Shootout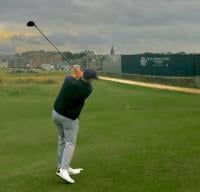 GolfMonster09
PING Staff 2020
Posted:&nbsp
WRX Points:&nbsp278
Handicap:&nbsp+4.5 index
Members
Posts: 1,515
Platinum Tees
I did some testing of all the current PING irons this past week. All 7 irons at standard lofts, KBS Tour S, same length, same Bridgestone Tour B XS balls, same SkyTrak setting tested indoors on a premium mat. Hit 5 balls with each iron, switched to the next head, rotated through 3 cycles (15 shots with each setup).
Interesting to see that the height and descent angles didn't change all that much as the lofts and ball speeds got stronger.
Might do the current Titleist lineup next to see how they stack up against each other and the PING range.
Open to criticism and questions from the peanut gallery, have a great day everybody!
Alex
PING G410 LST 9* (Weight neutral) - HZRDUS Black 6.5 
PING G410 14.5* LST - Tensei Pro Orange TX 70
PING Blueprint 3-Pw - KBS Tour S+ - Cushin
PING Glide Forged (Ping Man stamps) - 50º/54º/58º - KBS Tour S+ - Cushin
PING PLD Anser "Honey Badger"
Bridgestone Tour B XS
Tagged:
Leave a Comment